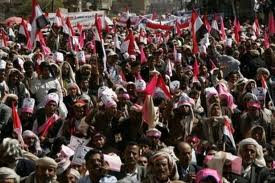 More civilians have been killed in the southern city of Taizz in Yemen by the regime's shelling which has continued relentlessly for the past few days.
The latest attacks have sparked nationwide outrage, as massive demonstrations took to the streets across the country condemning the international silence over what they called the genocide which is taking place, and called for the prosecution of all those involved in the killing.
The army forces loyal to the revolution have also warned the international community, urging them not to stay silent.
The number of casualties in Taizz is expected to increase in the coming days. Reports of more military reinforcements come from the Southern city for what many believe is to crush the popular revolution.
The Interim Prime Minister and President of Yemen's National Council Mohamed Sallam Basindwah has condemned the killings in Taizz, and has threatened to reconsider the coalition parties association with the regime if attacks continue.
Following the attacks in Taizz, protesters have vowed that they will continue their protests and that no initiative will save the regime members from prosecution.
Wasted ink on useless paper is what protesters have described the peace initiative which was signed last week in Riyadh, as it has failed to bring an end to what they call government's unceasing violations of Humans rights. Many people feel now that Yemen could be headed towards a civil war as all peaceful measures have failed to bring an end to the turmoil.