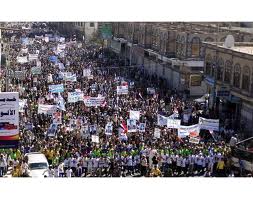 The "March of Life" demonstration is what the youth protesters have referred to it.
A historic March which was launched from the Southern city of Taizz earlier this week to call for the prosecution of Ali Saleh and to reassure the demands of the Youth Uprising.
The historic march which has captured top headlines, will be the first protest ever to have traveled a total distance of 262 km from Taizz to Sanaa.
Revolutionaries in Sana'a say that this a historic event which will be written down in the history books, as a millstone achievement by the Yemeni Youth.
The "March Of Life" demonstration consist of tens of thousands of protesters who have traveled night and day through the provinces of Taizz and Ibb and are now entered the province of Dhamar. The demonstration has reportedly attracted thousands of supporters from different parts of the country who have joined the march, and are now making their way to their final destination to Sana'a's liberation square.
This protester said that the March of Life protest shows the strength and determination of the Yemeni People who have defied all odds in order to reach their goals.
Protesters in Sana's liberation square told Press Tv that the "March of life"demonstration shows that this is indeed a Youth Revolution, not a political stalemate between the regime and opposition.
As the March of Life revolutionarie make their final push to the capital Sana'a attracting massive support, anti-regime demonstrations have continued to fill the streets of the capital Sana'a calling for the prosecution of Ali Saleh and the downfall of the regime.