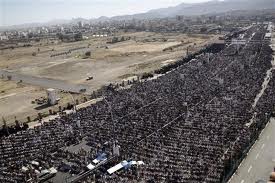 On a day dubbed "The Friday of Prosecution", tens of thousands of Yemenis took to the sixty street of the capital ?Sana'a, calling for the trial of Ali Abdullah Saleh and the fall of his regime.
Addressing a massive crowd of anti-regime protesters, the Friday prayers leader stressed that although the peace initiative, which granted Saleh Immunity from prosecution, was signed, the martyrs have signed with their blood long ago that he must be brought to justice.
Protesters said the new unity government along with the military commission have failed to bring an end to Saleh's era and the violent crackdown on peaceful protesters. Revolutionaries said Saleh still exerts presidential power and the opposition parties have collaborated with his regime instead of trying to topple it.
Anti-regime protesters also condemned the UN Security Council's plan to open an office in the southern city of Taizz, under the pretext of watching over the developing situation in the area. Protesters said this is a plot by the Security Council to suppress an Islamic awakening.
Tensions flared between the opposition and the youth protesters after opposition parties signed an initiative last month in Riyadh. Under the deal, Saleh handed over power in exchange for immunity from prosecution over the deaths of protesters. Since then, a unity government has been formed by the opposition and members of the Saleh's regime, while youth protesters have staged daily protests condemning the signed initiative and all associates of the regime.