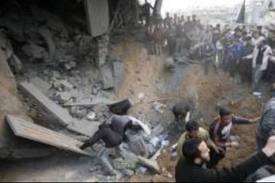 zionist israeli warplanes have launched a series of air strikes on the Gaza Strip.
Medical sources in Gaza said one man was killed and fifteen others were wounded.
Seven children including two in critical condition were among the victim's of the israeli air-strikes. The attacks on Gaza come amid acute shortages in medicines and hospital supplies.
Israel claimed that the warplanes attacked the impoverished coastal enclave in retaliation for rockets fired from Gaza.
The fresh attacks came less than a day after two Gazans, were killed by a rocket fired from an israeli drone on a car in the center of Gaza city.
Families of the victims expressed their anger at what they called new Israeli crime against the people of Gaza.
The zionist israeli military frequently bombs the Gaza Strip, saying the actions are being conducted for defensive purposes.
But analyst say zionist israel wants to provoke Palestinian factions into retaliation.
The surge in attacks over the last week has prompted fears of a would-be war on Gaza which is still recovering from a devastating 22-day war back in late 2008.
zionist israel has been making threats against the Gaza Strip in recent weeks and as the anniversary of israel's 22 day war on Gaza draws near Palestinians in Gaza say they are bracing themselves for more zionist israeli attacks.