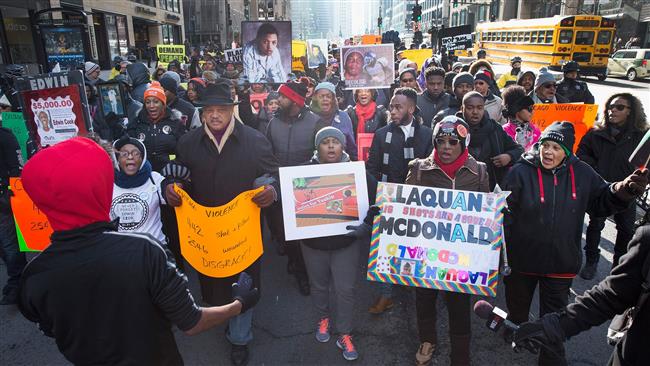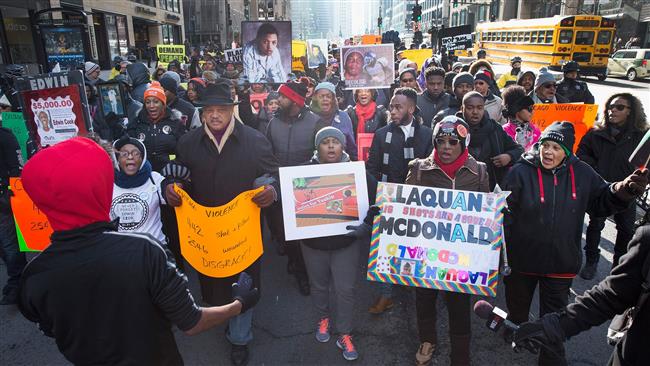 Video clips and investigative materials from more than 100 incidents have been released by a panel which show police officers in Chicago, Illinois, shoot civilians and commit other acts of brutality.
The Independent Police Review Authority, a Chicago panel which investigates police misconduct cases, released the evidence on Friday.
The evidence includes clips from police body cameras, dash cams, surveillance videos, and cell phones.
A graphic video of Chicago police fatally shooting an unarmed black man who ran toward them was among hundreds of audio and video recordings released.
Laquan McDonald, 17, was shot 16 times in 2012 by former police officer Jason Van Dyke, who is white.
The panel said that in the future, it would release to the public any video and audio recordings of incidents involving the use of force by police and other misconduct.
"These past few months, as this city has struggled with so many questions about policing and about police accountability, it has been clear that we all agree that there's a lack of trust and that increased transparency is essential to rebuilding that trust," the panel's head Sharon Fairley told a news conference.
The panel's investigations used to be largely secret but the change in operating style came after Chicago Mayor Rahm Emanuel promised to abolish and replace the agency, blasting its investigations of police misconduct as ineffective.
Police conduct and the city's handling of it have become a political crisis for Chicago's leaders, including the mayor.
The Independent Police Review Authority was formed in 2007 to investigate problems at the Chicago Police Department, which has a history of complaints of excessive force.
Police in the United States fatally shot about 1,000 people in 2015, of which blacks made up over a third of those killed, according to a report released earlier this year by the Washington Post.
A recent study has found that almost half of the people who die at the hands of the US police have some kind of mental or physical disability. The findings also reveal that most of the victims have been killed in situations where lethal force was not needed.