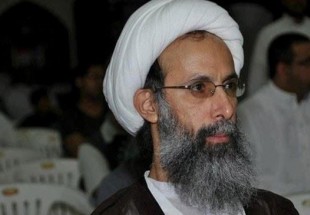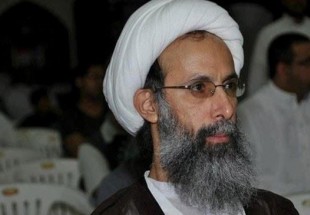 Londoners have staged a large protest to express their anger over the death sentence of prominent Saudi cleric Sheikh Nimr al-Nimr.
Several hundred people gathered in Marble Arch, London, on Friday in a vigil for Nimr, who was recently sentenced to death by a Saudi court.
The protesters were calling on the Saudi monarchy to revoke Sheikh Nimr's sentence and also called on Westminster to do more to halt the execution.
A member of the Free Sheikh Nimr Campaign, Zena Hajjiya, told the Press TV correspondent in London, "We have gathered here in London today in strong condemnation of the death penalty which has been applied to Sheikh Nimr and we have joined our brothers and sisters all around the world in condemnation. It is happening in Beirut, it is happening in Stockholm, in Berlin, in Melbourne, in India, in Kashmir, and we believe a revolution is happening."
For the last two years, protesters gathered outside the Saudi embassy, but this time they held the protest in Marble Arch to get their voice heard by all of the British public.
Nimr was sentenced to death by the Specialized Criminal Court in the Saudi capital Riyadh on Wednesday, on charges of disturbing the kingdom's security and making anti-government speeches.
On Friday, for the third consecutive day, people launched rallies in several towns of Saudi Arabia's Eastern Province, including Qatif and neighboring Tarout Island, to show their solidarity with the prominent Shia cleric.
On Thursday, Bahraini demonstrators also took to the streets in the village of al-Diraz, west of the capital Manama, and denounced the Saudi government for issuing the verdict against Nimr.
The cleric was attacked and detained in the Saudi city of Qatif in July 2012. His arrest sparked widespread protests in the kingdom, claiming the lives of several anti-government demonstrators.
Amnesty International has called the death sentence for Sheikh Nimr "appalling," saying the verdict should be quashed since it is politically motivated.
International human rights organizations have repeatedly lashed out at Saudi Arabia for failing to address the human rights situation in the kingdom. They say Saudi Arabia has persistently implemented repressive policies that stifle freedom of expression, association and assembly.