Europe
Violent protests continue in Spain amid clashes between police and demonstrators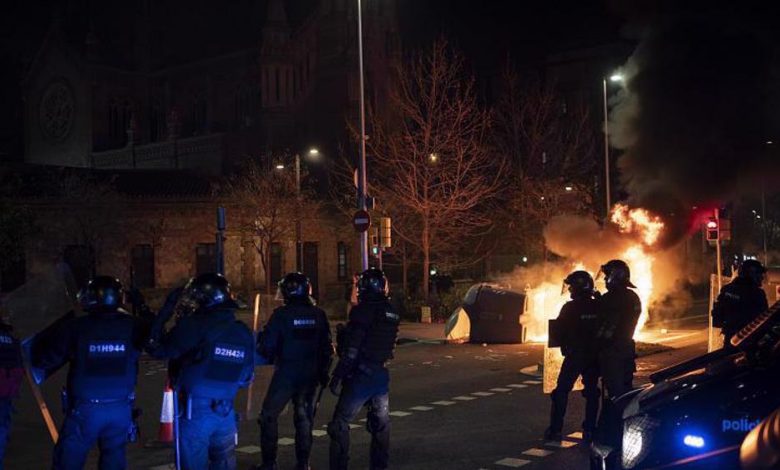 Angry protesters and police have clashed for a fourth night in cities across Spain after thousands of people took to the streets to demand freedom of expression.
Protests began last Tuesday over the detention of Spanish rapper Pablo Hasél, whose arrest has fueled debate about freedom of speech in the country.
Hasél was arrested over his tweets likening former king Juan Carlos I to a mafia boss and accusing Spanish police of torturing and killing demonstrators and migrants.
There have been clashes in the capital Madrid and other cities, with officers firing tear gas, sound bombs, and foam bullets at protesters.
Two banks and businesses were attacked in Barcelona where three people were arrested on Friday.
Police charged protesters for throwing projectiles at officers and at neighbors .
Nearly 60 people have been arrested across Catalonia.
Some protesters were also injured. One woman lost an eye during clashes in Barcelona, raising controversies and demands for investigations of police tactics.
The mass protests have prompted the Spanish government to promise to make speech laws less restrictive.
Spanish Prime Minister Pedro Sanchez said "democracy protects freedom of speech, including the expression of the most awful, absurd thoughts," before pledging to "widen and improve freedom of speech".
Meanwhile, Amnesty International has called for immediate legal changes in Spain, as the Spanish peoples' right to demonstrate and seek freedom of expression is being unfairly limited due to the restricted laws of the government.
Amnesty head for Spain, Esteban Beltran, told Reuters that "Spain is a country with freedom of expression, of course, but there are threats to that freedom".