Iran
Middle East
North America
Qasem Suleimani
Voting in Elections Embodiment of 'Death to America' Slogan: Iranian Cleric
Taking part in the ongoing elections in Iran is a legal and religious obligation, Tehran's provisional Friday Prayers leader Ayatollah Ahmad Khatami said, noting that participation of people in polling will practically fulfill the motto of "death to America".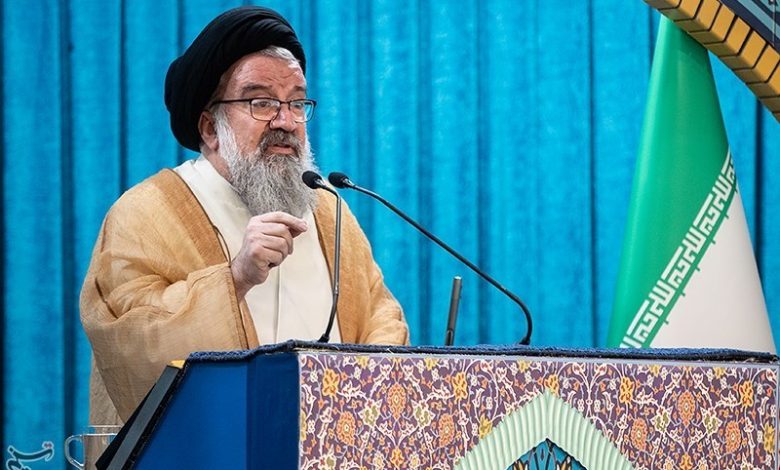 Addressing a gathering of worshippers in Tehran on Friday, Ayatollah Khatami said taking part in the parliamentary elections and the midterm elections of the Assembly of Experts is a religious, national and revolutionary duty that will help the people exercise the right to decide their own fate.
He also stressed that a high voter turnout in Iran is so significant that the enemies of the Islamic Republic have been doing their utmost to dissuade people from voting, adding, "I call on people to practically fulfill (the motto) 'death to America' with their presence (in the election)."
The cleric then underlined that the US assassination of top Iranian commander Lt. General Qassem Soleimani has failed to make the axis of resistance any weaker, emphasizing that the resistance front will keep working until "the destruction of the Zionist regime and the expulsion of all American forces from the region."
The nationwide votes for the parliament and the midterm elections of the Assembly of Experts officially began in Iran on Friday morning.
In comments after voting just minutes after beginning the elections, Leader of the Islamic Revolution Ayatollah Seyed Ali Khamenei described the election day as a "national celebration" and a day to "restore the civil rights of the nation".
Ayatollah Khamenei also emphasized that participation in the election is a "religious duty".
"The election guarantees the country's national interests, and whoever is interested in the country's national interests must take part in the election," the Leader added.