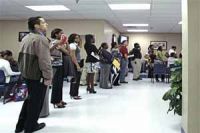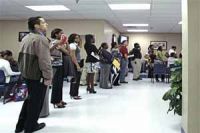 The Wall Street cheers a weaker than expected jobs report as renewed expectations that the Federal Reserve will stimulate the economy into next year sends US stocks soaring.
Stocks held gains Tuesday afternoon with the S&P 500 at a record intraday high, adding 10 points, or 0.5 percent, to 1754.
The government's jobs report released on Tuesday showed employers added 148,000 jobs to the economy last month, below expectations for a gain of 180,000.
The Federal Reserve's easy money policy has been a key factor in stocks' rally as it has kept borrowing costs low.
Given the sluggish economic recovery and tepid job growth, Wall Street traders hope the Fed will not scale back the policy this year and will maintain its stimulus measures into 2014.