North America
Walmart workers in US hold massive protests on Black Friday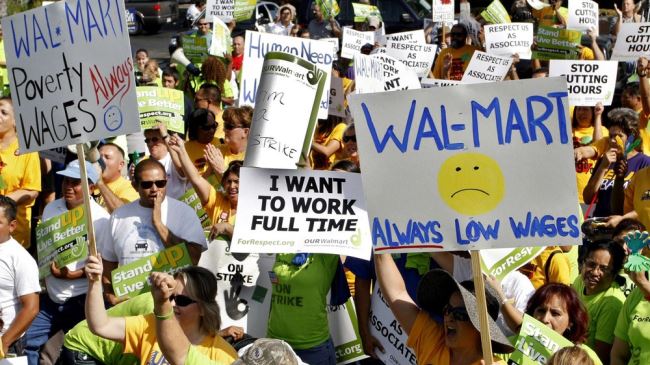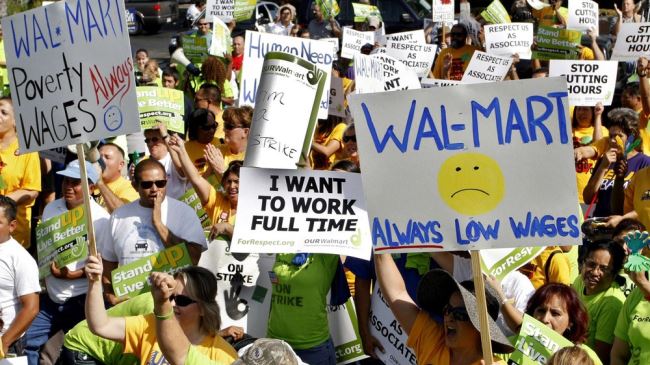 Walmart's employees held protests at 1,600 stores across the United States on Black Friday calling for higher wages and other benefits.
Organized by Organization United for Respect at Walmart (OUR Walmart), protests were held to push for $15-per-hour wages and full-time work at the largest retailer in the US.
However, Walmart has so far dismissed the employees' claims saying all employees are paid salaries higher than minimum wage and receive benefits.
"For the past three years, Walmart workers have been raising concerns about persistent understaffing at stores and its impact on wasted food, un-stocked shelves, long check-out lines and lower sales," a press release from the United Food and Commercial Workers Union (UFCW) said.
A Walmart worker said that many employees "are living in deep poverty and going hungry because the Waltons won't pay us a fair wage," noting the company "silence" them whenever they raise the issue.
Protesters used the frenzied shopping day to raise awareness about what they described as bad working conditions and below-living-wage salaries.
African-Americans have a buying power of 1.3 trillion dollars and organizers say black Americans can show the power of their community by the boycott.
The company has been under criticism and scrutiny during the last few years for holding heavy-handed stance toward unions.
Apparently, Walmart protestors were being joined with those holding demonstrations against police killing of black men across the country aka the "Black Lives Matter" which started following the death of Michael Brown in Ferguson, Missouri, last summer.