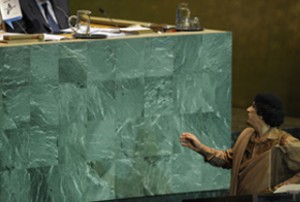 The Libyan leader Colonel Moammar Gaddafi says launching a strike on Iran over its nuclear program will set a "dangerous precedent".
"If we are talking about military action, then the question will be who will take this military action? Who will do it and who has the right to do so?" Gaddafi told the Council on Foreign Relations think-tank in New York on Thursday.
He noted that other countries including India, Pakistan, China, Russia, the US and Israel have atomic weapons.
"All of them have nuclear bombs. Why not take military action against them?" Reuters quoted Gaddafi as saying.
Israel, which is the sole possessor of nuclear weapons in the Middle East, has repeatedly voiced its determination to halt Iran's nuclear program, even through military options.
World powers accuse Iran of pursuing nuclear weapons. Tehran denies the charges, saying its nuclear program is peaceful and civilian.