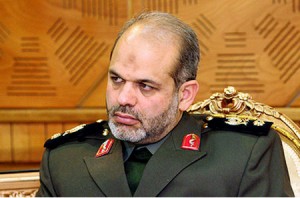 Defense Minister Ahmad Vahidi said Tuesday that if Iran's foes act against its national security, foreign warships in the Persian Gulf will be targeted.
Brigadier General Vahidi made the remarks amid media reports claiming that the failure in imposing new sanctions against Iran over its nuclear program had fueled speculations that Israel would opt to attack nuclear installations in the country.
Vahidi said if such a scenario was to be played out Iran would not hesitate to take all necessary measures to protect its national security, including targeting foreign warships in the Persian Gulf.
The important gulf, a part of the Indian Ocean between Iran and the Arabian Peninsula, he said, has become home to more than 90 warships and aircraft carriers.
The vessels are the perfect target for Iran's Navy should the country come under attack, he told Fars News Agency.
The Iranian general said he is ready to negotiate defense and military pacts with regional states as the Islamic Republic seeks a stable Middle East without the presence of foreign forces.
He added that Washington's increasing arms exports to the region is paving the way for an arms race and further conflicts in the already volatile Middle East.