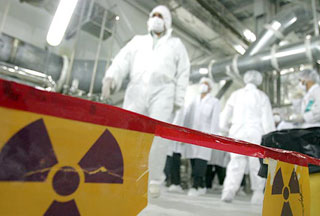 Washington has reportedly dismissed a Tehran offer to swap 400 kilograms of its low enriched uranium in the Persian Gulf island of Kish.
"Iran's proposal today does not appear to be consistent with the fair and balanced draft agreement proposed by the IAEA (International Atomic Energy Agency) in consultation with the United States, Russia and France," AFP quoted an unnamed US official as saying.
Iran's Foreign Minister Manouchehr Mottaki on Saturday said the country is ready "to take 400 Kg of 3.5 percent enriched uranium to the Island of Kish and exchange it with an amount equivalent to 20 percent of the original batch."
Mottaki added that the process would begin "right away" if the P5+1, the United States, Britain, France, China, Russia and Germany, agree to the offer.
The US official talking on condition of anonymity, however, said the offer was "nothing new." Iran should take up the existing IAEA proposal, the official added, and send 1,200 kilograms of its low enriched uranium to Russia "in one batch."
"We remain committed to these terms. Unfortunately, Iran has been unwilling to engage in further talks on its nuclear program," the official said. "We urge Iran not to squander this opportunity."
The West has been pressuring Iran to accept a UN-backed draft deal which requires Iran to send most of its domestically produced low enriched uranium (LEU) abroad to be converted into more refined fuel for the Tehran reactor that produces medical isotopes.
Iran has however called for "concrete guarantees" as some Western countries have previously failed to adhere to their nuclear commitments with regards to Tehran.
Iran's nuclear program was launched in the 1950s with the help of the United States as part of the Atoms for Peace program.
The then US President, Gerald Ford believed that the "introduction of nuclear power will both provide for the growing needs of Iran's economy and free remaining oil reserves for export or conversion to petrochemicals."
After the 1979 Revolution which toppled Iran's US-backed monarch Mohammad Reza Pahlavi, Western companies working on Iran's program refused to fulfill their obligations even though they had been paid in full.
Tehran and Paris had signed a deal, under which France agreed to deliver 50 tons of uranium hexafluoride (UF6) to Iran, a promise which was never fulfilled.
Despite being a 10-percent shareholder and entitled to France's Eurodif output, Paris has refused to give any enriched uranium to Iran.
In January 1978, Germany's Kraftwerk Union, which according to a 1975 contract was obliged to complete the Bushehr reactor, stopped working at the nuclear project with one reactor 50 percent complete, and the other reactor 85 percent complete.