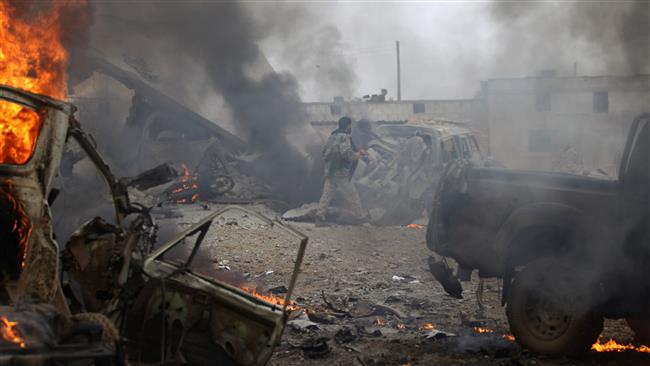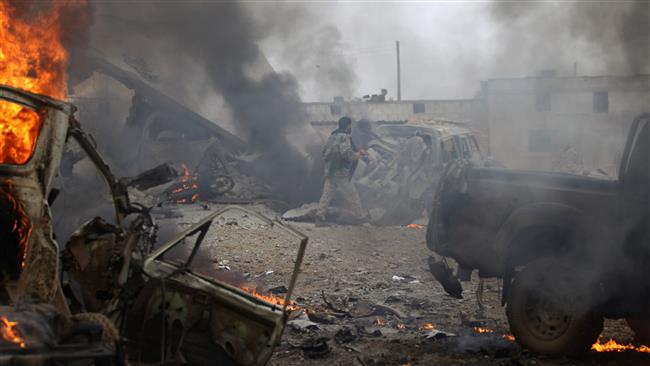 The Syrian army has released footage of clashes with Daesh Takfiri terrorists in the country's eastern city of Dayr al-Zawr.
In the footage released on Wednesday, Syrian troops can be seen while engaged in an operation against the terrorists in a cemetery area surrounding the city.
According to Syria's official SANA news agency, the army and air force launched a fierce offensive against the terrorists earlier in the day, killing 15 terrorists and destroying a large number of the militants' vehicles and equipment.
A car rigged with a large amount of explosives was also destroyed before it reached its target in the city's airport.
Daesh terrorists, who control most of the province, have kept the remaining government-held areas of the city under siege since 2014.
The battle for Wadi Barada continues
Meanwhile, the Syrian forces carried out attacks against the Jabhat Fateh al-Sham terrorist group near the Khadara Springs — used as a source of water for the capital's general area — in the strategic valley of Wadi Barada in the countryside of Damascus.
Since late December, government forces have been fighting in Wadi Barada against Takfiri militants, who have damaged the water processing facilities there and reduced water flow to some five million people in the city.
Damascus has been pushing to arrive at reconciliation agreements with the militant groups in the area to enable the rehabilitation of those willing to put down arms, and facilitate the entry of engineers into the village to repair the facilities.
A cessation of hostilities took effect on December 30 in Syria, following an agreement between warring parties. Daesh and Fateh al-Sham are not included in the truce.
Mediated by Russia and Turkey with the support of Iran, the truce is the first of its kind that has been largely holding in Syria for almost three weeks now.