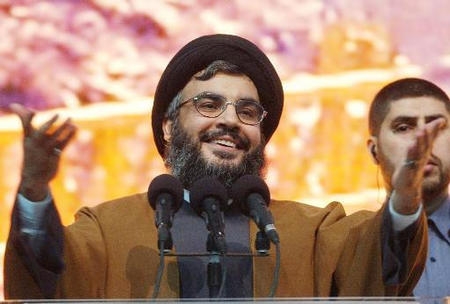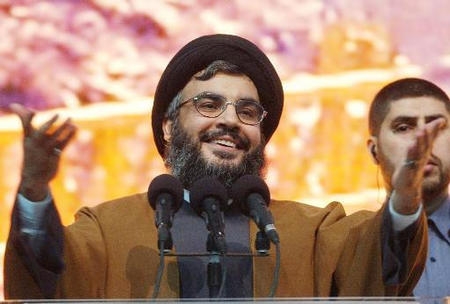 On the eve of the parliamentary consultations, Hizbullah Secretary General His Eminence Sayyed Hassan Nasrallah delivered a televised speech through Al Manar TV, in which he tackled the STL and its indictment, as well as the latest political developments on the Lebanese arena.
Former PM Omar Karameh tops the Opposition's list of candidates for the Lebanese premiership, while two other Muslim figures are also nominated, former MP Najib Mikati and former minister Mohammad As-Safadi. The Parliamentary Consultations will take place on Monday and Tuesday, amid hopes the government will not take a reign check again, and postpone the consultations.
"This direct speech was necessary in light of the current developments to tackle the situation, to present what we see and believe and see where things are heading," Sayyed Nasrallah started his speech, noting there are two major issues to be discussed, the first related to the indictment while the other iis the governmental issue.
Sayyed Nasrallah, recalling that STL general prosecutor Daniel Bellemare issued his indictment on Monday, said that Hizbullah interpreted this step as part of politicizing every step and measure the Special Tribunal for Lebanon is taking, particularly as the issuance of the indictment coincided with the Parliamentary Consultations that were postponed.
Hizbullah SG pointed out that the indictment, which supposedly needed about 6 to 10 weeks until issued by Pre-Trial Judge Daniel Francen until read and revised was hastened and issued quickly. He added that appointing the 7th of February to issue the indictment comes in context of further politicizing it and aims at putting more pressure on Hizbullah in order to serve the political choices.
Sayyed Nasrallah underscored "As we came to know through media, Bellemare for the first time has issued a warning to media outlets that published information related to the international investigation. By that he means Al Jadded TV (New TV). What is remarkable here is that for years, media leaks on investigations related to the tribunal have been leaked through newspapers, magazines, TV stations and Bellemare did nothing about that, only because these leaks served the targeting of Hizbullah and Syria."
Sayyed Nasrallah reiterated that targeting the Resistance and Syria was the reason why Bellemare set a blind eye to all the previous leaks concerning the investigation, and that New TV's Truthleaks destroyed the credibility of the tribunal and investigation and that is why Bellemare suddenly threatened this TV station. Bellemare's instant and sudden move proves again this tribunal targets a certain team and does not seek truth or justice.
Leader of the Resistance stressed that the initial response to the indictment was the toppling of the government, but His Eminence said there will be a final and detailed response in this context intil the content of the indictment is made public.
Ending on the first title of his speech, Sayyed Nasrallah said "If you (the 14 March campaign) want to employ this particular stage (that of Bellemare and Fransen) to pressure us, my response to you is that after the release of the indictment, we will not yield to anything that is being imposed on us. To us, this matter is over, but when the indictment is issued, we will have our say on that."
Moving to the political developments and political decisions that have been taking place recently, Hizbullah Leader said thanked the Progressive Socialist Party (PSP) Leader Walid Jumblatt and the leadership of the PSP for their clear and decisive stance on supporting Syria and the Resistance, particularly in this important phase in Lebanon's history.
Sayyed Nasrallah also said that the opposition was looking forward to forming a national unity government. "We are not seeking a monochromic government nor do we want to cancel anyone, because we respect the representation of everyone we have disagreed on the premiership issue, but this does not mean that any of the opposition leaderships considers canceling any side. The new government should be cooperative without any exasperation," His Eminence explained.
In this context, some claimed and warned that in case an opposition nominee (a prominent Sunni figure) is assigned for premiership, then that would affect the Sunni sect and that is false, Sayyed pointed out, adding "We will be very careful on this issue, and in case an opposition nominee is assigned for premiership, this will be proved through action and not promises."
Sayyed Nasrallah tackled the issue of offensing the former PM Omar Karameh, as His Eminence considered that unfortunately the main source of these offensives is the killer of Rashid Karameh, according to Lebanese judiciary.
Sayyed Nasrallah reminded that the Karameh family is a national and patriotic family that holds no corruption which exists elsewhere, reiterating that any offensive to the Karameh family is an offensive to "all of us".
Hizbullah leader further explained that such offensive comes as Karameh was only nominated for premiership. Meanwhile, the image in the other campaign includes threats and efforts as well as international and regional communication to reach premiership.
The Secretary General elaborated that former PM Karameh thanked the Opposition for nominating him as a premiership candidate and for their trust in him, but he politely apologized due to his poor health status, noting that he prefers if they find another nominee in case possible.
Sayyed Nasrallah said the opposition took his opinion into consideration, but reiterated that he (Karameh) is their first nominee for premiership particularly due to the delicate situation in Lebanon.
Hizbullah Secretary General tackled the new terminology "Political Assassination" that has become prevailing. He said that the talk on political assassinations of which the caretaker PM Hariri came across is new to us. When we talk about the political and democratic game in the country, there is no room for speaking about political assassination."
Sayyed Nasrallah added that in a political game, no one can impose any nominee on the parliamentary blocs.
Sayyed Nasrallah added that when we talk about not nominating former PM Hariri, others say this constitutes political assassination to this person and this is weird. In fact, Sayyed Nasrallah said that the real political assassination taking place is that of the resistance movement; which is one of the most noble resistance movements that aim at protecting Lebanon.
His Eminence reassured "Isn't what is happening today a political assassination of the resistance for "Israel's" sake? We are not going to cancel anyone, but we reiterate what you've been saying: There will be consultations. We have practiced our constitutional right to topple the government, and eventually, no one is seeking to assassinate anyone. We have to cooperate to overpass this stage. The "Israelis", who have been for a year or two predicting this to happen, are closely watching us."
Hizbullah Secretary General said that the resistance does not seek authority, and has priorities. He added that if an opposition candidate makes it to nomination, he (Sayyed) hopes that this nominee be supported and given a chance to form a government, and that is when we will see if this government will work in parallel with the interest of the Lebanese or not. But in case this was just an issue of issuing arbitrary judgments, Sayyed Nasrallah said, this would be disrespect to the Lebanese people as well as to the country.