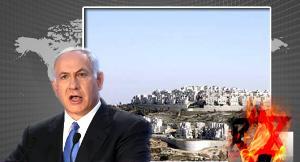 Netanyahu' explicitly said on Monday, 15/3/2010, that his government will continues the Judaizing policy in the occupied city of Jerusalem, while the U.S. – Zionist relation witnesses the worst crisis of confidence since decades.
Netanyahu said before a parliamentary delegation of the Likud party: 'The construction will continue in Jerusalem as it was in the past 42 years', adding: 'The ten-month settlement freeze will end on time'.
The Zionist announcement to build 75 thousand housing units in occupied Jerusalem during the visit of U.S. Vice President 'Joe Biden' last week provoked severe diplomatic crisis between the two allies.
The Zionist ambassador to the United States 'Michael Oren' said in comments carried by the Zionist media that this crisis is 'the most dangerous in 35 years,' since the United States forced the Zionist occupation to withdraw partially from Sinai.