Palestine
Middle East
Weaker than a Spiderweb: 'Lack of Internal Solidarity a Greater Threat than Iran Nukes'
In a rare joint interview, five former Israeli chiefs of staff said that they believe that what they called a "breakdown in internal social cohesion" presents a greater threat to the Zionist entity than Iran becoming a nuclear threshold state.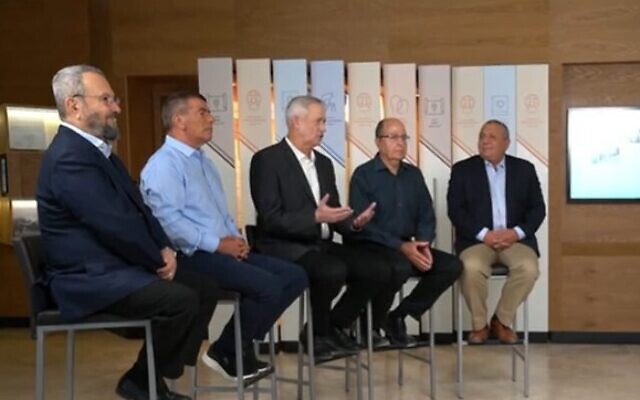 The five, Ehud Barak, Moshe Ya'alon, Gabi Ashkenazi, Benny Gantz and Gadi Eisenkot, spoke earlier in the week while attending the inauguration of a library named after first Israeli prime minister David Ben-Gurion.
In the interview that aired Friday, the generals — representing five of seven former military leaders who are still alive — discussed Israeli efforts to confront Iran's nuclear program, The Times of Israel reported.
They were first asked about their concerns over the emerging nuclear deal that the US and other world powers appear set to sign with Iran.
Gantz, who is currently defense minister and traveled to the US on Thursday to further voice Israeli objections to the deal, said that the occupation regime would manage, even if the agreement, which he called "full of holes," is signed.
"So, I think that the people of Israel will prosper and the State of Israel will continue to be here and we will be the strongest (country in the region), and even if there is an agreement, this is not the end of the story and we will know how to get an 'upside' out of anything if we have to. We will defend ourselves and act in our interests no matter what happens," Gantz said.
Asked if Israel had the capabilities to attack and stop the Iranian nuclear program, Eisenkot claimed that "it was only continuous Israeli activity over the last 25 years that had prevented it from happening so far."
For his part, Barak said a greater failure was the fact that Israel and the US did not put in place a plan to deal with Iran after then-US president Donald Trump pulled America out of the original nuclear deal with Iran.
Ya'alon, meanwhile, noted that he thinks the greatest current threat to Israel comes from within.
"I say that in the face of the Iranian threat we will know what to do. There has been no conventional existential threat to the State of Israel for years. There is an internal existential threat," Ya'alon said.
Eisenkot and Barak agreed with him, and Gantz and Ashkenazi did not dissent.
"The thing that most endangers the State of Israel in my eyes is the lack of solidarity in Israeli society," said Eisenkot, who recently announced he was entering politics and joining with Gantz's party.
"Yes. I think that the national and social resilience of the State of Israel is the key element in our ability to protect national security," Eisenkot said.
Barak said there was widespread agreement on this among Israel's former security brass.
"I think that all living chiefs of staff, almost all living Mossad heads and all living Shin Bet chiefs would agree on this. I mean, all the people who are involved in, or were at the head of the security apparatus, understand today that there is a more serious threat to the future of the State of Israel than from Iran, Hezbollah, or Hamas," Barak said.