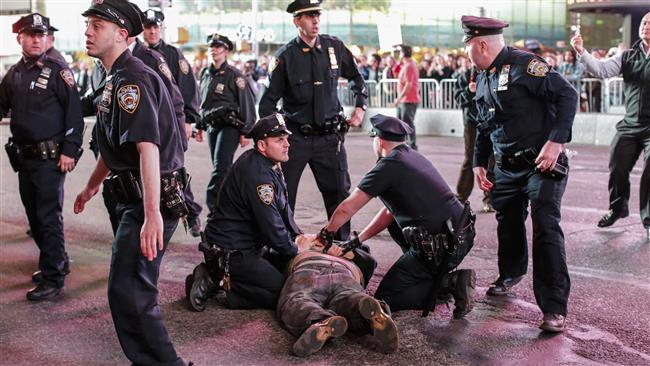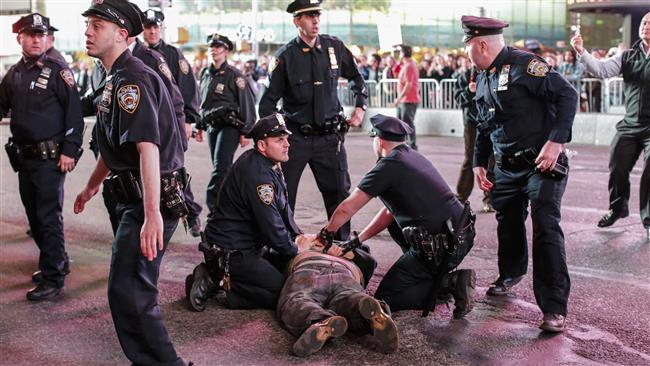 At least 100 people have been arrested in New York City as they were protesting against the death of a young black man, who died of spinal injuries after his arrest by Baltimore police.
The protesters were arrested on Wednesday as hundreds of people gathered in New York's Union Square in support of demonstrators in Baltimore.
People took to the streets in Baltimore, Maryland in the past week to condemn the police killing of 25-year-old Freddie Gray.
Police said the number of those arrested in New York City was expected to rise and charged many of the detained protesters with disorderly conduct.
Several clashes between demonstrators and police broke out during the New York rallies.
"There needs to be more accountability from police and more options for lower income individuals rather than just being trapped in a system where you can't get anywhere," Tyler Bell, a black student at St. John's University, told The Huffington Post at the rally.
Jenny Heinz, a psychotherapist, said it is important that people fight police oppression.
"People are being killed by a system that is structurally racist," Heinz said. "We're talking about human lives. I don't know how year after year of people being frisked, arrested and killed — when lives are being narrowed, and narrowed and narrowed — it's possible to not let loose."
Freddie Gray died on April 19, a week after an encounter with police that left him with grave spinal injuries. Authorities have not explained how or when his spine was injured.
Police have said Gray was arrested after he made eye contact with officers and ran away. Officers pushed Gray to the ground, handcuffed him and placed him into a police van.
Thousands of people hit the streets in Baltimore and several other US cities, including Boston, New York,  Indianapolis and Washington, DC, on Wednesday to protest the death of Gray.
Baltimore is the latest US city to experience civil unrest triggered by the deaths of black men over the past year at the hands of police in New York, Ferguson, Cleveland, and elsewhere.
Despite an economic recovery in the majority black city, it is one of the most unequal American cities when measured by income and educational achievement.
"The recent civil unrest that's occurred in the city of Baltimore resulted from decades of abuse [and] neglect of the African-American majority in the city of Baltimore," Dr. Randy Short, a member of the Black Autonomy Network Community Organization, told Press TV on Wednesday.
"There's been a regime of decay, exploitation and marginalization of the blacks in that city as well as cities across the country," Short said.
"There's a lot of suffering, there's hunger in Baltimore, there's oppression in Baltimore," he added.