Palestine
West Bank marches in solidarity with prisoners and the Yarmouk camp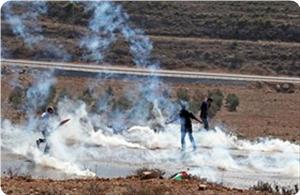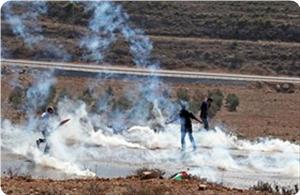 West Bank's weekly anti-apartheid wall and settlements marches were launched today in solidarity with the hunger striking prisoners and the refugees in Syria's refugee camps.
The occupation forces suppressed the Ma'sara village's weekly march, which headed to the wall, in support of the hunger striking prisoners, particularly Samer al-Issawi and Ayman Sharawna, and in support of the Palestinian refugees in the Yarmouk refugee camp in Syria.
The Israeli army closed the entrances to the village and declared it a closed zone, in order to prevent the demonstrators from reaching the wall.
Activist Hassan Briggah delivered a speech during the demonstration in which he denounced the events taking place in the Yarmouk camp, and called for supporting the prisoners on hunger strike, especially the captives Ayman Sharawna and Samer al-Issawi.
IOF also announced the town of Kafr Qaddoum a closed military zone and besieged it from its four sides. They fired tear gas grenades at the participants in the town's weekly march, causing dozens of Palestinians to suffocate.
Hundreds of residents of the town of Kafr Qaddoum and neighboring towns and solidarity activists participated in the march, which started this afternoon in front of the Mosque of Omar bin al-Khattab in the center of the village.
Meanwhile, dozens of citizens and foreign solidarity activists suffered suffocation after the Israeli troops fired at them tear gas grenades, during the repression of the Bil'in's weekly anti-settlement and apartheid wall march.
According to local sources, the Israeli soldiers fired rubber-coated metal bullets, tear gas grenades and stun grenades at the demonstrators, and sprayed them with wastewater mixed with chemicals, upon their arrival to the liberated lands near the apartheid wall.
The IOF also attacked the weekly march of the village of Nabi Saleh that started from al-shouhada Square after Friday prayers in solidarity with the prisoners in the Israeli jails.