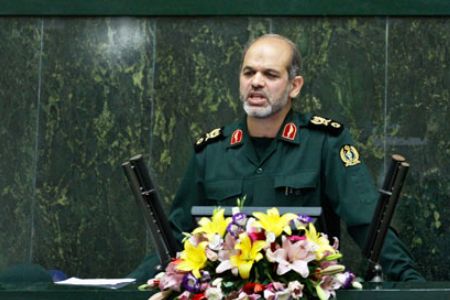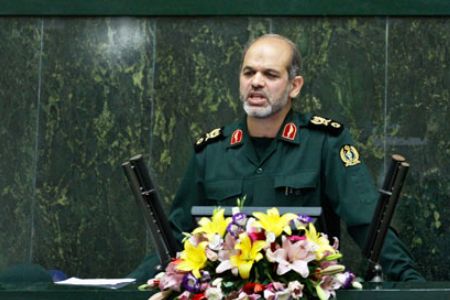 Iran's defense minister says the West is "the biggest supporter of terrorism in the world," adding that the military might of NATO and its members is declining.
The arrogant powers' military might is based on material and economic interests, and because of the economic crisis in Western countries, their power is also declining, Brigadier General Ahmad Vahidi said on Sunday.
Vahidi's remarks were made in a ceremony honoring the recent martyrdom of 18 military personnel of the Islamic Revolution Guards Corps's (IRGC) Imam Ali base in the western province of Lorestan.
They were killed on October 12, when a fire inside the base spread to a munitions depot, causing an explosion. Another 18 were wounded in the incident.
"Given the status quo , the global arrogance has become frustrated and seeks to create sedition in the other countries, especially the Muslim states of the Middle East," IRNA quoted Vahidi as saying.
He said the aim of a 123-billion-dollar arms deal between the US and some regional countries was to secure the interests of the US weapons manufacturing factories and to create insecurity in the Middle East.
The US plans to reinforce Arab military power by securing massive arms deals with four Persian Gulf littoral states in what is considered Washington's largest foreign arms sales.
The 67-billion-dollar deal with Saudi Arabia is the largest of a package of US arms deals with the Persian Gulf states.
Other Persian Gulf states including the UAE, Oman and Kuwait have also signed contracts worth USD 55.88 billion to receive US arms.
Iran believes that the US is trying to control the defensive might of regional countries through creating arms dependence on Washington.
"NATO's main objective of a military attack on Iraq and Afghanistan was to obstruct the expansion of Islam and the influence of Islamic Revolution," Vahidi said.
"However after almost 10 years, their only achievement is that 1.5 million people are killed in Iraq and 1 million killed in Afghanistan."
"Western countries attack regional countries under the pretext of fighting terrorism, and this is while the westerners are the biggest supporters of terrorism in the world," the Iranian defense minister said.