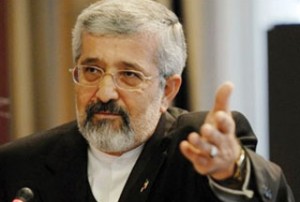 Iran's ambassador to the International Atomic Energy Agency (IAEA) Ali Asghar Soltanieh said Wednesday that western countries have derailed the IAEA from its statutory mandate.
"Once again the application of safeguards in my country is on the agenda of the Board of Governors after over 6 years! Why?" Soltanieh said in Vienna before the IAEA Board of Governors on Wednesday.
"A thorough and careful diagnosis of the past developments shows that the root cause is the hidden agenda of few western countries, specifically the United Sates, to derail the agency from its statutory mandate as an international technical organization established for promotion of peaceful uses of nuclear energy, to a merely a verification organization," he added.
"They also have tried to jeopardize its independence through instrumental use of the United Nations Security Council (UNSC). In a nutshell, to change the agency's prestigious identity to a UN watchdog! To monitor and control Vienna from New York!" he explained.
According to the Iranian envoy, Iran's peaceful nuclear program is merely a pretext for the implementation of this ill-intentioned and dangerous course of action.
"Today [it] is Iran, tomorrow [it] is another developing country! They have already started confrontation against Syria, under the false pretexts, following the Israeli military aggression," he noted.
"The secretariat has been and is under tremendous pressure and continuous interference by those few countries. My government hopes that the new director general will resist such pressures to keep the impartiality of the agency as he has already reiterated during the election campaign and taking oath ceremony," he asserted.
"These are warning worrisome signals which require mobilization for an immediate common action by majority of member states, especially by developing countries, against the attitude and conducts of a few western countries, which damages the credibility, integrity and the independence of the agency," Soltanieh concluded.
Iran, a signatory to the Nuclear Non-Proliferation Treaty, insists that its program is directed at the civilian applications of the technology, including clean energy production.
World powers, most of which possess and continue to develop a variety of nuclear arsenals that have been tested and even used in military confrontations, accuse Iran of the "intention" to enrich uranium to weapons-grade levels and have gone to great lengths to prevent the country from producing fuel for its medical and industrial needs.
The US and its European allies have been pushing hard for new sanctions against Iran in a bid to force the country meet their demands over its nuclear program.
Western countries have already imposed three rounds of UNSC-backed sanctions on Iran and are currently lobbying for a fourth, which is believed to contain a "symbolic" tightening of economic measures against the Tehran government, which has maintained that any such actions will again prove futile.