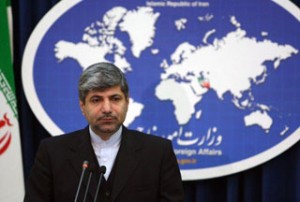 Iran says its decision to construct ten new enrichment plants was the outcome of the West failure to give guarantees to the Islamic Republic that it will receive fuel.
"If we do not get guarantees (for the delivery of the fuel), naturally we will have plans to move towards self-sufficiency. This is nothing unusual," Iranian Foreign Ministry spokesman Ramin Mehmanparast said at his weekly press conference Tuesday.
Days after a new resolution by the International Atomic Energy Agency (IAEA) called on Iran to halt the construction of its Fordo enrichment plant, the Iranian government on Sunday tasked the Atomic Energy Organization (AEO) with building ten more nuclear enrichment sites.
The developments come as Western powers have been pressuring Iran to accept a proposal which would see Iran ship its Low Enriched Uranium (LEU) abroad for further processing and have it returned for use in the Tehran research reactor, which produces medicine.
Iranian officials rejected the UN proposal, first floated by the Obama administration, saying there are no guarantees that the country would in fact receive the fuel it requires.
Tehran says it is ready to accept the nuclear swap if it takes place within its own borders.
Iran's announcement of plans to construct ten new enrichment plants provoked outrage in the West which warned the Islamic Republic against the decision.
Mehmanparast told reporters that world powers have rushed into taking stance on Tehran's decision.
"Officials of some countries have rushed into adopting stances which may be indicative of the fact that they are concerned or angry," he said.
"It is natural. However, Iran has strategic plans and long-term economic objectives," he added.
"In order to bring welfare to people and to meet its requirements, Iran needs to have plans in advance regarding provision of the energy that the country requires," said the spokesman.
"To meet our needs, we have to plan in advance," he said referring to the reason for making a decision to build the new uranium enrichment plants.
The order for the construction of the new sites comes as the Iranian government is expected to provide the country's power plants with 20,000 megawatts of electricity for domestic use.
The spokesman pointed to Iran's official protest to the latest IAEA resolution and said, "Tehran has written to all 35 members states of Board of Governors to protest at the performance of 25 countries which voted against its nuclear program."
The move was the IAEA's first adoption of a resolution against Iran since February 2006.