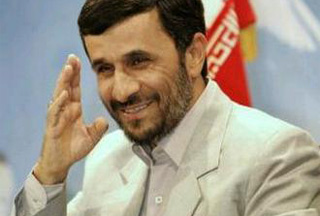 Iranian President Mahmoud Ahmadinejad says the Western powers are concerned about Tehran's steady progress in becoming energy independent rather than its alleged potential to build a nuclear bomb.
"The [Western] powers are in fact afraid of Iran's many accomplishments in nuclear technology, rather than its capability to produce a nuclear bomb," Ahmadinejad said in an interview with Turkey's TRT TV channel.
Speaking ahead of a high-level visit to Turkey, the Iranian president said the nuclear issue has been "over-politicized" in recent years.
Mindful of the West's disgruntlement about Istanbul's growing relations with Tehran, Ahmadinejad insisted that he does not intend to "come between Turkey and its Western neighbors."
"Iran has asked Turkey to strengthen ties with its eastern neighbors, but this should not be seen as a call for Turkey to break ties with Western countries," he noted.
The Iranian president made the comments as he prepares for a three-day conference of the Permanent Committee of Social and Economic Cooperation (COMSEC), which kicks off in Istanbul on Sunday.
On a different note, Ahmadinejad said he supported Turkey's bid to become a full member of the European Union, adding that it would "promote EU credibility even more."
Turkey's accession to the EU has been a subject of heated debate over the past few years. The country began full membership negotiations with European countries in 2005.