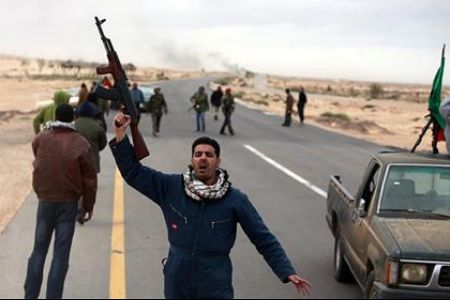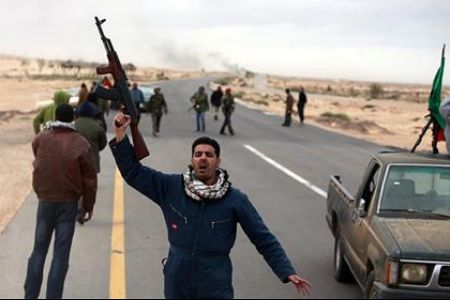 Media reports say US-led Western countries have failed to properly respond to the ongoing massacre committed by forces loyal to Libyan ruler Muammar Gaddafi.
A Times Online report said the counteroffensive launched by the Gaddafi regime against revolutionary forces is increasing pressure on the West to help stop the fighting in the North African country.
Several Western countries have been accused of turning a blind eye to the deadly crackdown in Libya in order to protect their economic interests.
Libya currently provides about 20 percent of Italy's oil imports. It has developed cordial relations with Britain, France and the United States as well.
The criticism comes as heavy battles continue between anti-government forces and regime troops near the Libyan capital Tripoli as Gaddafi clings on to power.
Snipers loyal to Colonel Gaddafi and tanks surrounded the strategic town of Zawiyah on Wednesday.
"We can see the tanks. The tanks are everywhere," Reuters quoted a resident as saying. Meanwhile, there were reports of considerable loss of life as anti-regime forces tried to repel a huge assault.
Zawiyah is under the control of the revolutionary forces. Troops loyal to Gaddafi are targeting the opposition to retake the city.
The fighting in Zawiyah has also forced the shutdown of one of Libya's biggest refineries, which is the main provider of gasoline for the country's cars.
Revolutionary forces in Libya have given ruler Gaddafi 72 hours to quit and leave the country.
Meanwhile, a Greece defense ministry source has reported that Gaddafi's personal plane has crossed Greece en-route to Egypt.
The office of Greek Prime Minister George Papandreou says Gaddafi talked on the phone with the premier earlier on Tuesday.
There also reports that three of Gaddafi's private jets have left Tripoli for Vienna, Athens and Cairo.
Gaddafi claims Western countries intend to seize control of the oil reserve in the North African country.
"If they take such a decision [to impose a no-fly zone], it will be useful for Libya, because the Libyan people will see the truth, that what they want is to take control of Libya and to steal their oil," Col Gaddafi said in an interview with Turkish TRT TV.
Reports widely indicate that government-led violence in the country has left at least one thousand protesters dead over the past several days.