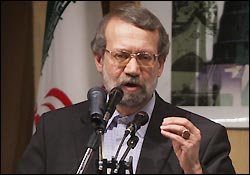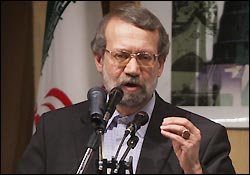 Majlis Speaker Ali Larijani has said the West is trying to trick Iran into giving away its supply of 4.5 percent enriched uranium.
"My guess is that the Americans have made a secret deal with certain countries to take 4.5 percent enriched uranium away from us under the pretext of providing nuclear fuel (to us)… (and) we hope Iranian officials will pay due attention to this issue," he told ISNA on Saturday.
Giving away enriched uranium in return for nuclear fuel cannot be logically or legally justified, he added.
According to International Atomic Energy Agency regulations, the supply of nuclear fuel for the Tehran research reactor should be guaranteed, and the Western powers should not try to make any deceptive moves, Larijani said.
He made the remarks one day after diplomats from Russia, France, and the United States submitted their formal approvals of a deal to process Iran's nuclear fuel abroad.
Iran's response to the IAEA proposal was due on Friday, but Iran's ambassador to the IAEA, Ali Asghar Soltanieh, said Tehran is still studying the deal and will formulate a response next week.
The nuclear fuel talks in Vienna concluded on Wednesday without a final agreement, but IAEA Director General Mohamed ElBaradei presented a proposal for the four countries to study, saying he hoped that all parties would make a firm response to his draft deal by Friday October 23.
Under the draft deal, a large consignment of Iran's enriched uranium would be shipped out of the country for processing into fuel rods with a purity of 20 percent, which would be used by a research reactor in Tehran that manufactures medical radioisotopes.
"We are still working and elaborating on all the details of this proposal, from technical and all other aspects," Ambassador Soltanieh told ISNA on Saturday.
"After the final evaluation, I will inform ElBaradei next week, as soon as I return to Vienna, about the results (of our evaluation)," he said.
He called the three-day meeting of representatives from Iran, the United States, Russia, France, and the IAEA "positive and constructive", and said, "Therefore we are also waiting for the other parties to study our proposals and to reflect the results of the evaluation."
Soltanieh did not reveal any details of the Iranian proposals, but Press TV earlier quoted a senior member of the Iranian negotiating team as saying that Iran prefers to buy the fuel from an international seller.
Iran can produce 20 percent enriched nuclear fuel
Soltanieh also said that Iran is able to domestically produce 20 percent enriched nuclear fuel for the Tehran research reactor.
However, Iran prefers to purchase the needed fuel for the reactor, which is part of a peaceful project for the production of medical isotopes, from foreign countries.
Iran insists its nuclear program is completely peaceful and that it has the right to enrich uranium.
Western states believe it is attempting to develop a nuclear weapons program, although the IAEA has never found evidence that Iran's civilian nuclear program has been diverted to weapons production.
The five permanent members of the UN Security Council (Britain, China, France, Russia, and the U.S.) and Germany — which are collectively known as the 5+1 group — plan to hold a new round of wider-ranging nuclear talks with Iran in Geneva next week.