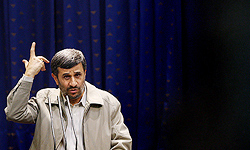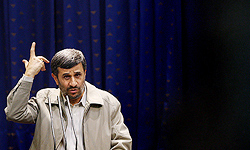 Iranian President Mahmoud Ahmadinejad blasted the West's threatening remarks against Iran, stressing that the western powers are unable to confront the Iranian nation.
"They claim that they have different options, including the military option, on the table and that they can impose sanctions on Iran, while they know that sanctions are a useless measure against the great and resolved nation of Iran who is among the richest nations," Ahmadinejad said, addressing a large and fervent congregation of the local people in the northern province of Golestan on Tuesday.
"They want to create indifference among the Iranian people and authorities through psychological warfare," the Iranian president went on saying.
He pointed to the recent massive demonstrations held in Washington in which the US citizens voiced their protest at the policies of the US administration, and stated, "If the US statesmen do not trust in our remarks, they should listen to their people's demands."
"They (the westerners) are so bold that they continue threatening us although they know that they cannot inflict a minor damage on our nation and they don't feel embarrassed," Ahmadinejad stressed.
Ahmadinejad further reminded the US officials' remarks about imposing further pressures on Iran for the next two years and their continued claims about effectiveness of the anti-Iran sanctions, and noted that during his visit to New York to take part in the UN General Assembly meeting he had underlined on behalf of the Iranian nation that sanctions can never undermine the Iranian nation's resolve.
"Now, I announce on behalf of the nation that whatever they want to do two years later I ask them to do it now so that we can see how much they are able to confront the Iranian nations," President asked, reiterating the ineffectiveness of the current pressures against Iran.
The US-led West accuses Iran of trying to develop nuclear weapons under the cover of a civilian nuclear program, while they have never presented any corroborative evidence to substantiate their allegations. Iran denies the charges and insists that its nuclear program is for peaceful purposes only.
Tehran stresses that the country has always pursued a civilian path to provide power to the growing number of Iranian population, whose fossil fuel would eventually run dry.
Despite the rules enshrined in the Non-Proliferation Treaty (NPT) entitling every member state, including Iran, to the right of uranium enrichment, Tehran is now under four rounds of UN Security Council sanctions for turning down West's calls to give up its right of uranium enrichment.
Tehran has dismissed West's demands as politically tainted and illogical, stressing that sanctions and pressures merely consolidate Iranians' national resolve to continue the path.
Political observers believe that the United States has remained at loggerheads with Iran mainly over the independent and home-grown nature of Tehran's nuclear technology, which gives the Islamic Republic the potential to turn into a world power and a role model for other third-world countries.