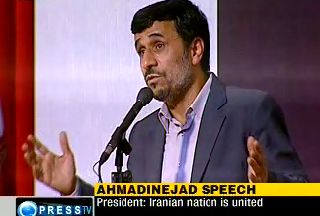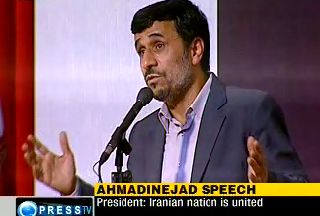 Iranian President Mahmoud Ahmadinejad says despite the imposition of sanctions against Tehran, the West is concerned about the awakening of the Iranian nation.
"Western powers are neither concerned over atomic bombs nor worried about nuclear missiles, but are concerned over the awakening of the Iranian nation," he said in an address after the inauguration of a major industrial project in the west-central Iranian province of Qazvin on Monday.
"They do know that if the Iranian nation is awakened, it enjoys so many high values that will help it reach the highest peaks in the world," he added.
He warned arrogant powers against their bullying, stressing, "The Iranian nation will never ever let them impose oppression on other nations. The Iranian nation will never let them create an economic system in the world to waste the achievements of those who are hard-working."
With the awakening of the collective will of the Iranian nation, Ahmadinejad underlined, it will never let hegemonic powers plunder its wealth.
"They know if the Iranian nation moves forward, its human and Islamic values will conquer the whole world. That is what they are concerned about," the president added.
Ahmadinejad criticized the West's approach towards Iran's nuclear program, saying, "This is the logic of cowboys who issue a sanctions resolution and threaten the country, but later call for holding talks."
"If Western powers demand justice and law for all, we are then ready to negotiate with them," he added.
Head of the Majlis National Security and Foreign Policy Commission Alaeddin Boroujerdi said on Sunday the US Congress had informed the Swiss envoy to Tehran that it was ready to hold negotiations with Iran.
His remarks came after a meeting with Swiss Ambassador Livia Leu Agosti, whose embassy represents US interests in Iran.
The Iranian president further pointed to the recent twin terrorist bombings in the southeastern Iranian city of Zahedan, saying, "The terrorist attack was in continuation of the recent sanctions resolution imposed by the UN Security Council against Iran."
"We have concrete evidence which shows NATO and US forces in Pakistan and Afghanistan provide terrorist groups with equipment and weaponry as well as financial and intelligence support."
Two bombs went off in quick succession outside the Zahedan Grand Mosque in the southeastern Iranian province of Sistan-Baluchestan last Thursday.
At leat 27 people were killed and more than a 100 injured in the terrorist act.