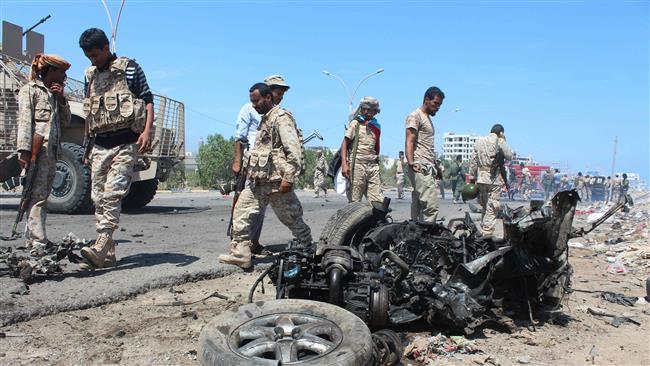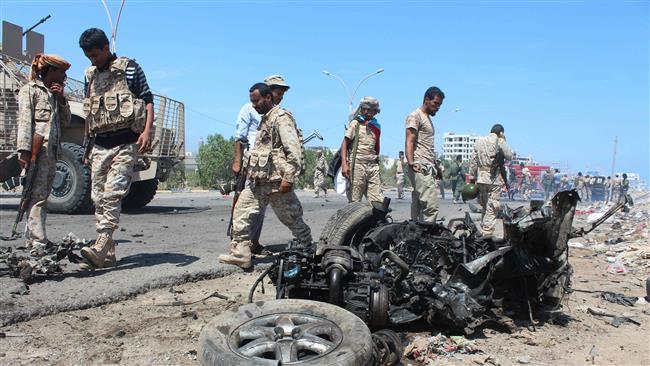 Seven suspected members of the Takfiri Daesh group, including a Westerner, have been captured in an offensive in Yemen's port city of Aden.
The captures were made part of an offensive by forces loyal to ex-Yemeni president Abd Rubbuh Mansur Hadi against al-Qaeda and Daesh, which has claimed a wave of deadly attacks in recent months in Aden.
A militant commander, quoted by the AFP news agency, said the arrests were made in the al-Mansoura district of the southern province of Aden on Saturday.
Daesh and other Takfiri groups have exploited a massive Saudi invasion and its attacks on Houthis to expand their footholds in Yemen.
There has been an uptick in violence since Saudi-backed forces stormed the city of Mukalla near Aden.
On May 23, twin bombings claimed by Daesh killed at least 41 people in Aden which has turned to a major hub for Takfiri groups since Saudi-backed troops overran the city in July.
A security source told local news site Aden al-Ghad that the cell of seven was led by a French national.
France is said to be the biggest source of European foreign militants joining Daesh, with more than 900 French nationals thought to have left the country to fight for the group in Iraq or Syria.
It is not known how many French or European nationals could have joined the group in Yemen, where Daesh has not long had a presence.
Aden has served as Hadi's temporary headquarters since fleeing the capital Sana'a in September 2014.
Militant groups have consolidated their power in Aden after Hadi's forces drove the Houthis out of the port city and other southern provinces in July with the Saudi military support.
Riyadh stands accused of even supporting Takfiri militants in a bid to contain the Houthis, with numerous reports of Saudi airdrop of weapons in areas under the control of the extremists.
The kingdom launched its offensive against Yemen in late March 2015 in a bid to bring Hadi back to power. More than 9,400 people have been killed and at least 16,000 others injured since the onset of the aggression.