North America
Wet Seal employees angered at 1 day notice, manager raise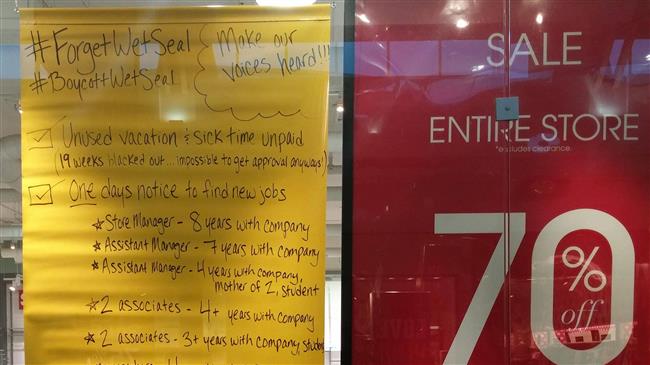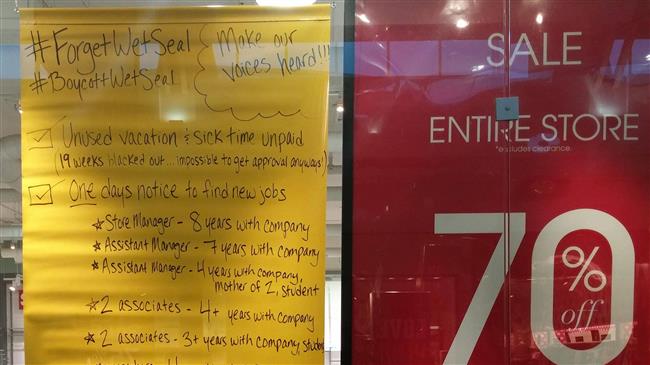 Angry employers at an American chain clothing retailer have put up protest signs in the stores for receiving layoff notices one day before they were fired.
Wet Seal, a young women's clothing retailer, is now at the center of a social media anger for cutting down its employees in a manner that former employees and customers believe was unnecessary and brutal.
The store just announced closing at least 60 stores within a week, giving hundreds of part-time employees just a day's notice, while managers got a few additional days of beforehand notice.
Adding salt to the injury, the interim chief financial officer got a $95,000 raise on the same day the closures were announced.
According to BuzzFeed News, the retailer, which told investors in December that it planned to close 60 of its 528 stores by Jan. 31, waited until Friday to tell managers which stores would be closing.
For weeks the headquarters had told stores that the 80%-off discounts were normal, that new shipments were on their way, and the business was fine.
On Friday, store managers and assistant managers were called for a 2:30 pm conference call, without any prior notice.
District managers told store personnel to inform associates that they no longer had jobs.
After the call, a script was emailed out for telling employees that started with: "As you all know, the company has been struggling financially. We've tried cutting costs everywhere we can, but it has not been enough."
Tyra Norwood, 20, and other staff put up a poster at the Ballston Common Mall in Arlington, Virginia, that reads: "Go online and find out why we are closing. Sad story. Wet Seal sucks. Liars."
"I was trying to Google it because I was wondering why we were having all these huge sales — people kept asking us if we were closing, and I said, 'No, we're just getting ready for new inventory,'" she said in an interview.
The sign listed many of the employees' frustrations in a checklist: unpaid and unused vacation and sick time, the abrupt notice for employees who spent as many as eight years at the company, the interim chief financial officer's new $95,000 raise, etc.
Wet Seal had 456 stores as of 2011.