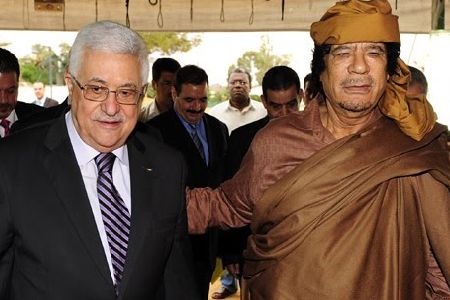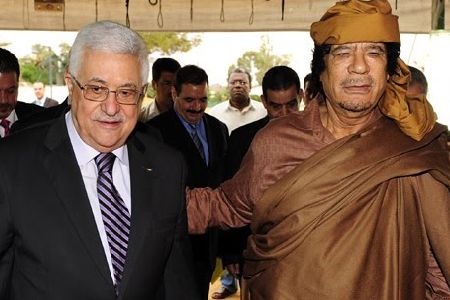 The Palestinian Fatah movement is investigating reports alleging that Mohammed Dahlan and Khalid Salam were involved in supplying Israeli-made weapons to embattled Libyan ruler Muammar Gaddafi.
Last week, Libyan revolutionary leaders accused troops loyal to embattled Gaddafi of using Israeli arms to target their own citizens.
They made the allegation after seizing Israeli-made rocket-propelled grenades abandoned by Gaddafi forces in the city of Misratah, some 150 km (95 miles) east of the Libyan capital, Tripoli.
Libya's Transitional National Council has linked the Israeli weapons cache to Fatah Central Committee members Mohammed Dahlan and Khalid Salam.
"This matter is under investigation," DPA quoted Fatah spokesman Nabil Abu Rudeineh as saying on Wednesday.
He added that the Fatah Central Committee rejects such acts, because they oppose the movement's policy of non-interference in the internal Arab affairs.
We "will take the necessary measures regarding these allegations," Rudeineh stressed.
However, Fatah said that Dahlan was suspended from the Committee two months ago, following charges that he was plotting against acting Palestinian Authority Chief Mahmoud Abbas.
Dahlan, who is currently under investigation, has denied the charges.
Additionally, the Fatah movement said that it no longer has anything to do with Salam.
The Libyan revolution, inspired by the recent uprisings in Egypt and Tunisia, was sparked nearly two months ago.
Brutal crackdowns by the Libyan regime on anti-government protesters soon turned into a full-scale war, leaving hundreds of people dead and tens of thousands of others homeless.
Backed by the United Nations, US, British, French, Canadian, Danish and Belgian warplanes joined the war on March 19, launching airstrikes on Libya.
The West claims that it is trying to stem Tripoli's military offensives against revolutionary forces who now control a large portion of the country.
Critics, however, accuse the West of hypocrisy for the offensive on Libya, given their silence on brutal crackdowns on similar anti-regime movements elsewhere in the Arab world, such as in Bahrain, Saudi Arabia and Yemen.
The rising civilian death toll in Libya has also set off a frenzy of speculations about the real motive behind the war in the country, with analysts saying that Washington and its Western allies are basically after the North African country's vast oil reserves.