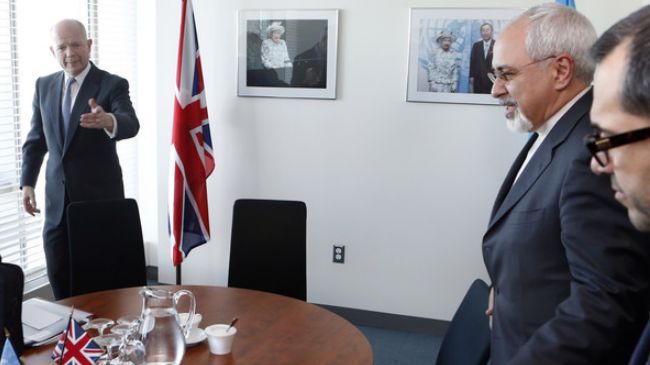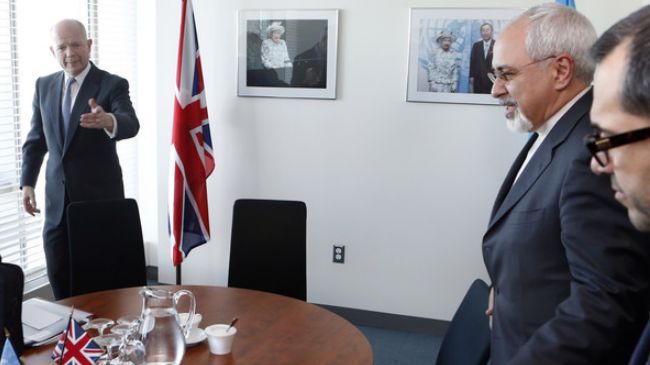 British Foreign Secretary William Hague has said that his country is in talks with the Islamic Republic of Iran to re-establish bilateral ties severed almost two years ago.
Briefing the House of Commons on recent developments in the Middle East region, William Hague disclosed that British and Iranian officials have held a first round of talks, through which the two sides decided to appoint non-resident charge d'affairs to consider how they could negotiate a deal to restore full diplomatic relations in future.
Hague referred to his meeting with Iranian Foreign Minister Mohammad Javad Zarif, adding that both countries decided to appoint "a non-resident charge d'affaires tasked with implementing the building of relations, including interim steps on the way towards the eventual reopening of both our embassies."
"Building up trust and cooperation is going to be necessary before we can say, yes we are opening up the embassy again", Hague told lawmakers at the Commons.
"This includes discussion of numbers of and conditions for locally-engaged staff in the embassy premises of each country and visits to inspect these premises", he added.
The UK government unilaterally cut its bilateral relations with Iran and closed its embassy in Tehran in November 2011 after a group of people, angry with Britain's anti-Iranian policies, staged a protest in front of the embassy building and inflicted some damages on its gate and the walls. Actually, Britons did not allow the then Iranian government to investigate what had happened and rushed to announce a severance of bilateral ties by expelling Iranian diplomats in London and closing the embassy there.
William Hague also addressed future talks over Iran's nuclear energy program and said both Britain and the U.S. would be willing to look again at sanctions imposed on Iran.
However, the UK foreign secretary again accused Iran of failing to comply with Security Council resolutions without saying how and in what circumstances those resolutions were adopted against Iran.
"We must not forget for a moment that as things stand today, Iran remains in defiance of six Security Council resolutions and multiple resolutions of the International Atomic Energy Agency board of governors and is installing more centrifuges in its nuclear facilities", said Hague.
"In the absence of change to these policies, we will continue to maintain strong sanctions. A substantial change in British or western policies requires a substantive change in that programme."
The repeated accusations against Iran come as the Islamic Republic has time and again stressed peaceful nature of its nuclear energy program.
Meanwhile, William Hague has forgotten the fact that Britain and its allies at the UN Security Council imposed multiple sanctions resolutions as well as unilateral restrictions against Iran without taking into account the rights the Islamic Republic is entitled to as a signatory to the nuclear Non-Proliferation Treaty (NPT) and also as an active member of the International Atomic Energy Agency (IAEA). – See more at: http://www.presstv.ir/detail/2013/10/08/328331/relations/#sthash.lzFDX6tA.dpuf