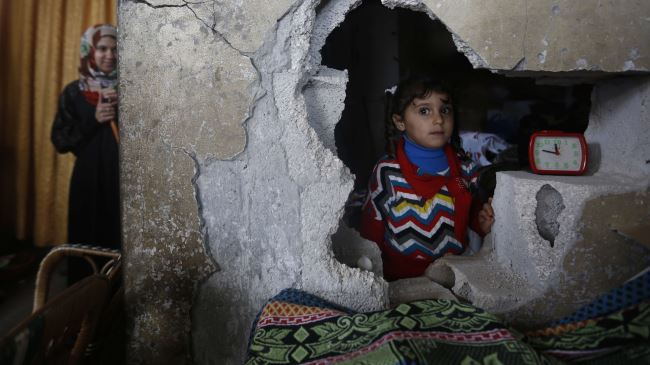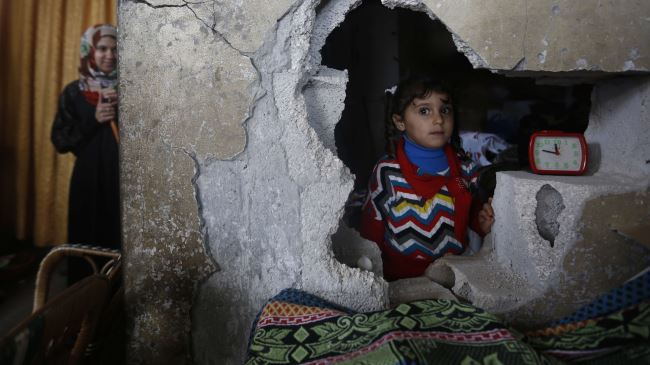 The cold season is causing many hardships for thousands of Gazans whose houses were destroyed in the Israeli regime's recent war on the besieged Palestinian enclave.
Palestinian sources say homeless Gazans are bearing the brunt of a fierce winter that has engulfed the Palestinian territory for days now.
Latest reports say heavy rains and flooding have brought further misery to the Palestinian families living in makeshift shelters in the rubble of their homes.
Figures show at least 100,000 Palestinians were left homeless as a result of the Tel Aviv regime's latest military offensive on the besieged sliver.
The flooding has exacerbated the already dire humanitarian situation in Gaza caused by the Israeli blockade and the unprecedented destruction from the regime's brutal war.
Almost 2,140 Palestinians were killed in the recent Israeli onslaught on Gaza, which started on July 8 and ended 50 days later.
Meanwhile, the United Nations has declared a state of emergency amid the humanitarian crisis plaguing war-stricken Gaza.
The UN Relief and Works Agency for Palestine Refugees in the Near East (UNRWA) said in a Thursday statement that the flooding has caused the closure of 63 schools across Gaza City and 43 schools across the northern Gaza Strip.
The agency further noted that it was "providing emergency fuel to supply back-up generators for pumping stations, portable pumps, municipalities, water, sanitation and health facilities."
Gazans have endured daily electricity blackouts, with major pieces of infrastructure, from roads to sewage treatment plants seriously damaged in the Israeli assaults.
Gaza's reconstruction has yet to begin three months after the war.