Saudi Arabia
Women Cancel Driving Campaign, Declare Open Campaign in S. Arabia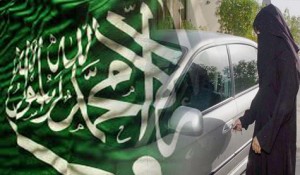 Women in Saudi Arabia have canceled a driving campaign planned for Saturday to protest a medieval ban on driving by women in the Arab country, announcing an "open campaign" instead.
The Saudi women, who had originally planned a "drive-in" on Saturday, canceled it after Saudi authorities threatened many of them with legal action but announced an "open driving campaign."
"Out of caution and respect for the Interior Ministry's warnings… we are asking women not to drive tomorrow and to change the initiative from an October 26 campaign to an open driving campaign," activist Najla al-Hariri said on Friday.
Several women said they had received threatening telephone calls from the Interior Ministry asking them not to drive on Saturday.
ksa women driving Ministry spokesman General Mansur al-Turki also said that "it is known that women in Saudi are banned from driving and laws will be applied against violators and those who demonstrate in support" of this cause.
Saudi officials also warned online activists against supporting the planned protest challenging the kingdom's male-only driving rules.
The cyber-dissident law "will be applied against violators" while other measures will be taken against "those who gather to support" the planned protest, the ministry said on Friday.
On October 24, Amnesty International urged Saudi Arabia to respect the right of women to drive.
Human Rights Watch (HRW) has also thrown its weight behind the Saudi women's campaign to take to the wheel in defiance of the ban.
Saudi Arabia is the only country in the world where women are prohibited from driving. The medieval ban is not stated by law but is a religious fatwa by the country's Wahhabi clerics and enforced by regime forces. If women get behind the wheel in the kingdom, they may be arrested, sent to court and even lashed.