Ashura
Days of Allah
World Muslims Commemorate Ashoura
People across Iran and other world states mourned Ashoura, the 10th day of the lunar month of Moharram, the day Imam Hossein (PBUH) was martyred in the battle of Karbala 1,300 years ago, while meeting the health protocols declared to prevent the further spread of coronavirus.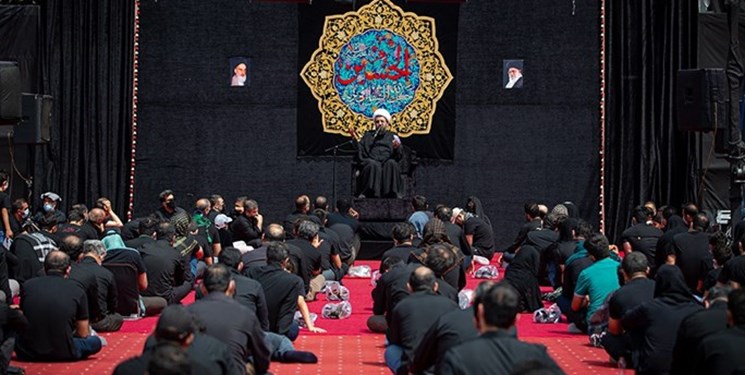 Every year, people, dressed in black, took to the streets and mosques throughout the world or gathered in the holy city of Karbala in Southern Iraq to commemorate the tragedy of Ashoura, but this year the mourning ceremonies were limited to every mourner's house or were held in open spaces under strict social distancing rules.
The annual commemoration is every year held in different regions of the world during various mourning rituals.
Ashoura marks the day when Imam Hossein (PBUH) and 72 of his companions were martyred in the unjust battle imposed by the second Umayyad caliph in Karbala, Yazid, over 14 centuries ago.
On the 10th of the month of Moharram, in the 61st year of the Islamic Calendar (680 ACE), in a barren land (which is now the city) of Karbala, some 100 kilometers Southwest of Baghdad, Imam Hossein (PBUH) – the grandson of the Prophet Mohammad (PBUH) and the third Imam of Shiite Islam – was savagely slaughtered in battle and rose to martyrdom.
The Battle of Karbala was the result of Imam Hossein (PBUH)'s attempt to liberate the people of the region from the tyrannical rule of the second caliph of the Ummayad Caliphate, Yazid I. Over the days preceding his martyrdom, Imam Hossein (PBUH) and his small caravan of friends and family (between 72 and 124 men) were surrounded by Yazid's army of thousands (over 30,000 armed men). They were ultimately forbidden access to water for three days, and on the tenth day (Ashoura), Yazid's army attacked in full force, killing all 72 of Imam Hossein (PBUH)'s closest companions, including his six-month old son. The final and most brutal casualty of Karbala was Imam Hossein (PBUH) himself, who sustained countless unimaginable wounds from arrows, stones and swords before his throat was cut while he was prostrating before the Lord in prayer. Thus, on that day, Imam Hossein (PBUH) rose as a martyr and has remained so for over a thousand years.