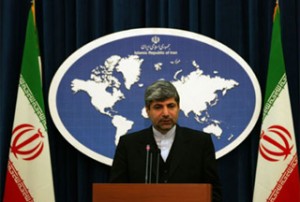 Iran says world powers will fail to reach a consensus on imposing new sanctions against Iran over the country's nuclear program.
"Since the principle of sanctions lacks the legal and logical basis regarding the Islamic Republic of Iran's basic right to peaceful nuclear activities; and since this policy is pursued under the political pressure of certain countries, it is natural that such a consensus [on sanctions] will not materialize," Iranian Foreign Ministry spokesman Ramin Mehmanparast said on Sunday.
Washington is persuading members of the P5+1 group — the United States, Britain, France, Russia, China, which are the veto-wielding members of the UN Security Council, and Germany — to approve a new round of sanctions against Iran.
China and Russia have repeatedly opposed new punitive measures against Iran with Beijing repeatedly calling for more dialogue with Tehran to resolve the issue.
Despite the IAEA reports reaffirming that it continues to verify the non-diversion of Iran's nuclear work toward any military purposes, the US and its allies accuse Tehran of having military objective in its nuclear work.
Iran, a signatory to the Nuclear Non-Proliferation Treaty (NPT), rejects the allegations as politically motivated and says its nuclear work is totally peaceful and within the framework of the NPT.
Mehmanparast said Iran was still ready to discuss a nuclear fuel swap deal with Western countries as long as Tehran's concerns regarding the delivery of the fuel are taken into consideration.
Under an IAEA-brokered deal, Iran is to send most of its domestically-produced low enriched uranium (LEU) abroad for conversion into the more refined fuel, required by the Tehran research reactor to produce medical isotopes.
"We cannot accept whatever terms they want [regarding the swap deal]. Our condition is that there should be a 100 percent guarantee," he said.
Based on the draft, Iran would receive a shipment of the nuclear fuel at a later time, while the Tehran research reactor is already running out of fuel.
After the powers ignored Tehran's concerns over the absence of necessary guarantees, Iran decided to domestically enrich uranium to a level of 20 percent.