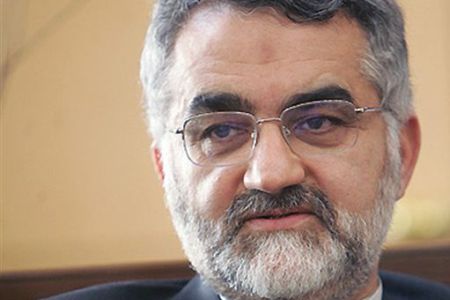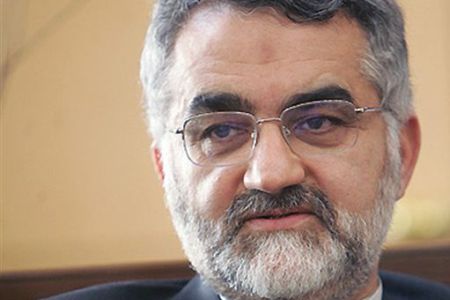 Senior Iranian lawmaker Alaeddin Boroujerdi says the nuclear arsenals of international powers and Israel are a great threat for global society.
"Iran considers the existence of even one nuclear weapon a great threat for the international community and believes in a world free of nuclear weapons," the head of the National Security and Foreign Policy Commission of the Iranian Parliament (Majlis) said on Sunday.
In his meeting with Head of the Democratic Republic of Congo's Senate Foreign Affairs Commission Jean Claude Mokeni, Boroujerdi referred to Iran's progress in different fields despite sanctions and political pressure, saying such progress has provided the grounds for the expansion of ties between Tehran and African nations.
The UN Security Council adopted the fourth round of sanctions against Tehran in June under intense pressure from the US, which claims Iran is pursuing military nuclear program.
Shortly after the adoption of the anti-Iran UN resolution, the US, which possesses and has used nuclear weapons in the past, in a politically-motivated move imposed additional sanctions against the Islamic Republic, which does not possess nuclear weapons nor seeks to develop such weapons.
The US then pressured Japan, Canada, and Australia to impose similar unilateral sanctions on the Islamic Republic, targeting investments in the country's energy-related industries.
Iran says that as a member of the International Atomic Energy Agency and a signatory to the Nuclear Non-Proliferation Treaty, it has a right to use the peaceful applications of nuclear energy for electricity generation and medical research.
Iranian officials maintain that sanctions and international pressure provide Iran with more opportunities for progress, and help the country achieve self-sufficiency in the banking and energy sectors.
"Iran is ready to expand its relations with African countries based on mutual respect and common interests," Fars News Agency quoted Boroujerdi as saying
He added that the expansion of all-out relations with African countries is among the top priorities of the Islamic Republic's foreign policy.
Mokeni described Tehran's independent policies in the international arena as a factor in the empowerment of weaker countries and said, "The Democratic Republic of the Congo considers Iran's support and help necessary for its development."