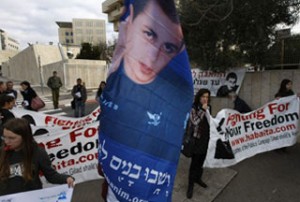 Israel has released six members of the Palestinian parliament affiliated to the Palestinian Islamic Resistance Movement (Hamas) who were jailed after resistance fighters seized Gilad Shalit in a 2006 cross-border raid.
The freed lawmakers were identified as Ahmad Attoun and Wael Al-Husseini from Jerusalem Al-Quds, Khalil Ar-Rabai, Samir Al-Qadi, and Mahir Badr from Hebron (al-Khalil), and Mahmoud Al-Khatib from Bethlehem (Beit Lahm).
"The detention of Palestinian lawmakers was a crime against humanity and the international community should call Israeli occupation to account for that violation," Gaza-based Hamas lawmaker and head of the International Campaign for the Release of Abducted Members of Parliament Mushir Al-Masri said.
Al-Masri stressed that the campaign he leads will continue to lobby against the detention of members of the Palestinian Legislative Council (PLC).
Eighteen other Palestinian legislators are still in Israel's custody, including 15 affiliated to Hamas, two from Fatah, and one affiliated to the Popular Front for the Liberation of Palestine (PFLP).
Israel arrested 45 Hamas lawmakers in the West Bank in the aftermath of Shalit's capture.