China
World News
Xi, Putin urge world leaders to reject US protectionism, join China's Silk Road bid
Chinese President Xi Jinping and his Russian counterpart Vladimir Putin have called on world leaders to reject protectionist US policies and join the Belt and Road Initiative (BRI).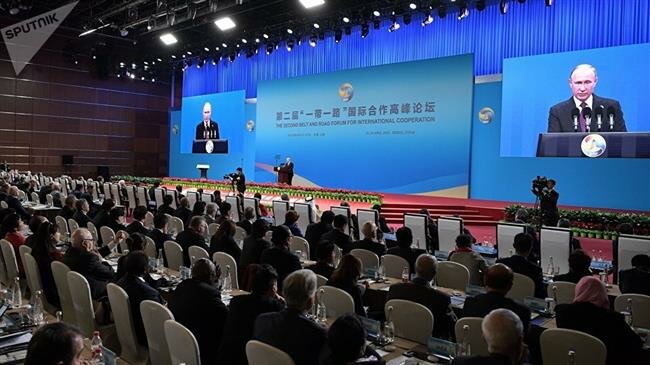 Speaking on the final day of the BRI summit in Beijing Saturday, Xi pleaded with leaders of 37 nations from Asia, Africa, Europe and Latin America "to build an open world economy and reject protectionism."
His remarks were an apparent jab at US President Donald Trump who has launched trade wars against China and several other countries.
Xi's signature foreign policy intends to reinvent the ancient Silk Road to connect Asia to Europe and Africa through massive investments in maritime, road and rail projects — with hundreds of billions of dollars in financing from Chinese banks.
"We need to encourage the full participation of more countries and companies, thus expanding the pie of common interests," he further told the leaders who attended the three-day event.
BRI brings growth to Eurasia: Putin
Addressing the forum, Putin also called for a global response against protectionism, unilateral sanctions and "trade wars" in a veiled denunciation of the United States.
"The rise of protectionism in its most dangerous form, which at the present time is often used illegitimately as unilateral restrictions to bypass the UN Security Council, or worst of all, trade wars," he said.
"We think that only when we are united can we counter such acute challenges amidst a global economic slowdown and gaps between countries in terms of well-being and technology," Putin added.
The Russian head of state noted that the Belt and Road Initiative shared many similarities with Russia's idea of a Eurasian partnership.
The BRI would also strengthen cooperation and provide harmonious development in Eurasia, Putin told other leaders in attendance, adding, "these goals bring us together here in Beijing."
China, the world's second largest economy, has been engaged in a persisting trade war with the United States, which sent no representative to the summit.
The United States fears that China aspires to replace it at the center of the world order and the decision by Italy and Luxembourg to join BRI has raised alarm bells in Washington which sees Beijing's influence now extending to the EU's core.
BRI offers to bring much-needed modern infrastructure to developing countries and China's spending has increased its footprint around the world.
A draft communique for the BRF forum pledges to "reject protectionism" and "unilateralism," in an obvious criticism of Trump and his "America first" policy.
The proposed communique further states that BRI will welcome developed countries and international investors to take part in the projects.
Addressing the opening ceremony of the forum on Friday, the Chinese president insisting that the project will have "zero tolerance" for corruption.
During a state banquet on Friday night, Xi also called on participating world leaders to band together in the face of setbacks.
"Certainly, while building the Belt and Road Initiative, we will face difficulties and there will be twists and turns," he underlined.
On Thursday, China's finance ministry released guidelines for assessing financial risk and debt sustainability to apply to projects in BRI countries.
The world leaders, along with scores of finance officials, are gathered in Beijing to build a new platform for international trade and counter Washington's unilateralism and protectionist policies.