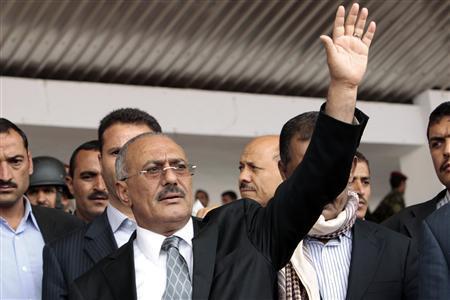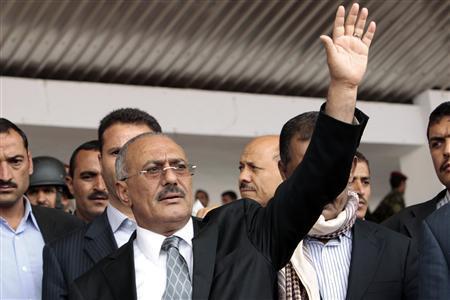 Yemeni President Ali Abdullah Saleh has agreed to step down within weeks in return for immunity from prosecution, but protesters said they would keep up their demonstrations until he went.
The handover plan was drawn up by the Gulf Cooperation Council and endorsed by the official opposition coalition known as the Joint Meeting Parties. The plan proposed that Saleh hand over power to his vice-president a month after an agreement was signed with the opposition. He would be granted immunity from prosecution for himself, family and aides. "The president and the (ruling) GPC party agree with this initiative with all its items," Deputy Information Minister Abdoh al-Janady told reporters on Saturday. "Under this final approval, there are no reservations."
But protesters, who have taken to the streets in the tens of thousands demanding an end to Saleh's nearly 33-year rule, are worried the plan could be a maneuver between the president and official opposition parties to share power. "We won't stop protesting and we will continue to escalate. This initiative doesn't have anything to do with us," said Mohammed Sultan, a protester in the capital Sanaa. "It has to do with the Joint Meeting Parties that accepted the offer."
"There is still one month until the president resigns and we expect him at any moment to change his mind," said activist Mohammed Sharafi. "We will not leave … until Saleh goes and we achieve our goals of setting up a modern, federal state."
For his part, Ibrahim al-Ba'adani, an opposition activist in the city of Ibb, said he was "surprised" that the formal opposition had accepted the principle of immunity for Saleh. "We will continue sit-ins until the president goes," he said.
Meanwhile, the White House welcomed the plan and urged all sides to "swiftly" implement a peaceful transfer of power. "We applaud the announcements by the Yemeni government and the opposition that they have accepted the GCC-brokered agreement to resolve the political crisis in a peaceful and orderly manner," White House spokesman Jay Carney said in a statement. He also urged "all parties to move swiftly to implement the terms of the agreement so that the Yemeni people can soon realise the security, unity, and prosperity that they have so courageously sought and so richly deserve."
US State Department spokesman Mark Toner said earlier that "the timing and form of this transition should be identified through dialogue and begin immediately." He also called for "genuine participation" from all sides and urged them to refrain from violence.