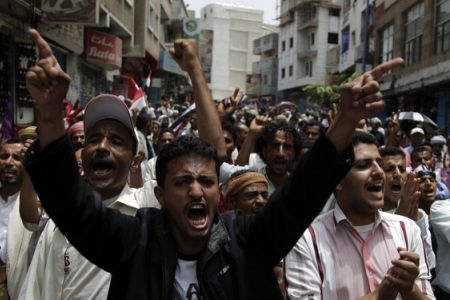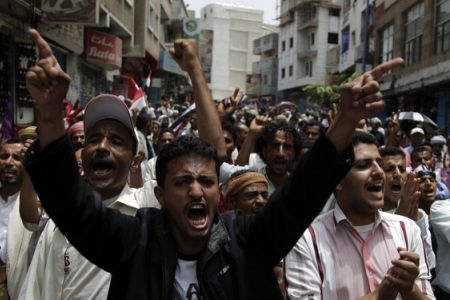 Yemen's elite Republican Guard shelled a neighborhood of the opposition stronghold of Taez, killing two civilians and wounding 10, residents said on Sunday.
The overnight bombardment damaged a school and two houses in the Al-Rawda neighborhood in the north of Yemen's second-largest city, the residents added.
They said the apparent target was the home of dissident tribal chief Hammoud Sayyed al-Mekhlafi, which emerged unscathed from the shelling.
Hammoud said he was shocked by the bombardment and blamed a unit of the Republican Guard stationed at the Republic Hospital near Al-Rawda.
In Arhab, north of the capital Sanaa, the army shelled positions held by pro-opposition tribesmen overnight, tribal sources said. There was no immediate word on any casualties.
In the south, tribesmen clashed with suspected Al-Qaeda militants in the town of Mudia, leaving four people wounded, a hospital official in nearby Loder stated.
The clashes broke out when the tribesmen attempted to recover a car confiscated by the militants, who have a strong presence in Abyan province, east of the main southern city of Aden, witnesses said.
The authorities say the militants control most of the Abyan provincial capital Zinjibar despite almost two months of military offensives against them.
On Saturday, Yemeni protesters staged rallies in Sana'a while similar demonstrations were held in the second largest city, Taez.
The protesters carried banners reading "No to foreign dictation" and "No to American domination."
The demonstrations came one day after the millions-strong turnout for demos on Friday, dubbed the day of rejecting domination over revolution.
The Yemeni protesters also renewed calls for the formation of a transitional council.
The demonstrations were held to send a message to Saleh, who appeared on state TV on Thursday for the first time since he was injured in an attack on the presidential palace in Sana'a on June 3.
He said he welcomed dialogue and power sharing, but insisted he would not step down.
Anti-regime protesters have rejected Saleh's speech, calling him "politically dead."
Demonstrators also called for the prosecution of Saleh, who is now in Saudi Arabia for medical treatment, and officials of his regime over the killing of hundreds of anti-government protesters since opposition rallies began in the country in January.
Since Saleh left the country in early June, anti-regime protesters have been holding daily demonstrations across Yemen, calling for the establishment of a transitional council to prevent him from returning to power.
Saleh is reportedly planning to return to the impoverished Arab state, but Yemenis have vowed to continue holding demonstrations until his regime falls.