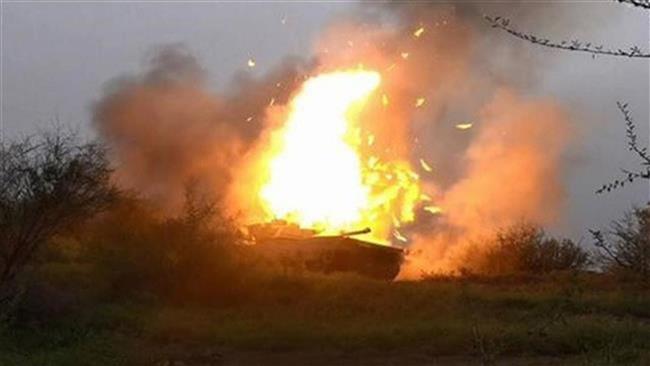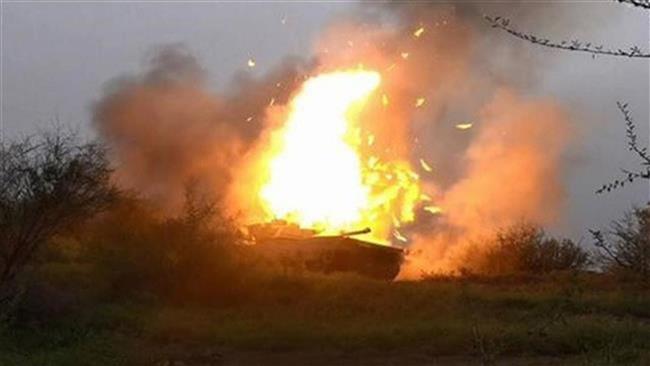 Yemeni army forces and allied popular committees have, in retaliatory attacks, fired rockets at Saudi forces in central Yemen.  
According to local media reports on Wednesday, the Yemeni forces fired Katyusha rockets at Saudi forces in the area of Sahn al-Jin in the oil-rich Yemeni province of Ma'rib, 250 kilometers (150 miles) east of the capital, Sana'a.
A number of Saudi military vehicles were reportedly destroyed and some other items of military equipment were damaged in the Yemeni retaliatory attacks against Saudi positions.
The Yemeni forces also fired rockets at a number of Saudi military bases in the southwest of the kingdom.
Reports said early on Wednesday that Saudi warplanes bombarded the Yemeni capital as many as 25 times.
According to the reports, the Saudi fighters targeted the area of al-Nahzeh in the capital, killing four civilians and injuring seven others. At least four other people also sustained injuries in the Saudi airstrikes in the capital's area of Jamalan. Saudi fighter jets also pounded the area of al-Hadeh.
In a separate development, the Saudi fighter jets also pounded the northwestern Yemeni province of Sa'ada, targeting a hospital and a residential area in the district of Dhaher.
The Saudi warplanes also launched several airstrikes on a school in the district of Haydan in Sa'ada. There has been no immediate report of possible casualties.
On Tuesday, an attack carried out by the Yemeni forces targeted Saudi Arabia's Khojrah military site in the kingdom's southwestern border region of Jizan, killing and wounding a number of Saudi soldiers.
The Yemeni attacks have been launched in retaliation against the deadly Saudi aggression against several areas in Yemen.
On March 26, Saudi Arabia began its aggression against Yemen – without a UN mandate – in a bid to undermine the Houthi Ansarullah movement and restore power to the country's fugitive former president, Abd Rabbuh Mansur Hadi, a staunch ally of Riyadh.
The conflict has so far left about 4,500 people dead and thousands of others wounded, the UN says. Local Yemeni sources, however, say the fatality figure is much higher.