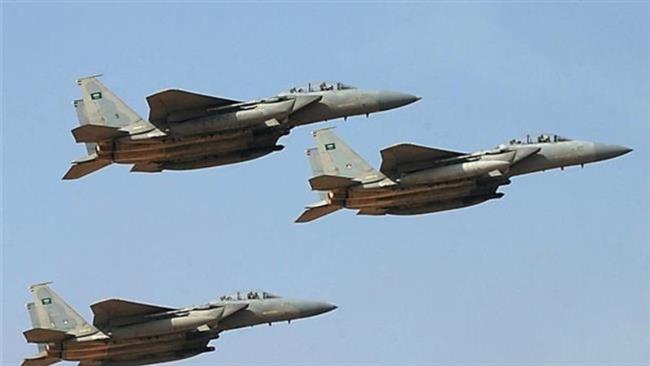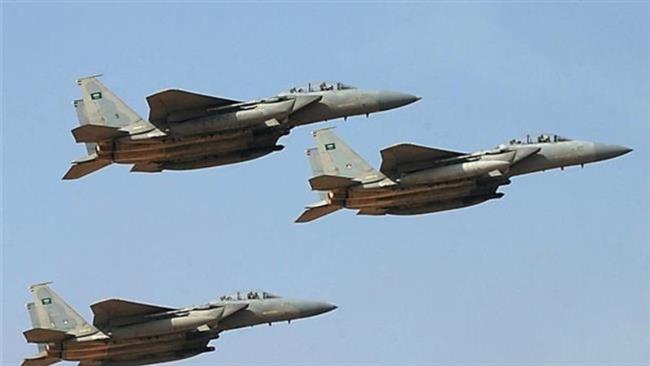 Houthi Ansarullah fighters in Yemen have shot down a Saudi fighter jet violating the country's airspace in the northern Sa'ada Province, a report says.
Ansarullah fighters brought down the fighter jet in the Noshour Valley in Sa'ada on Monday, Yemen's al-Massirah television reported.
Also on Monday, the Moroccan army announced that an F-16 fighter jet belonging to the African country's armed forces had gone missing during a mission to carry out an airstrike against Yemen.
The plane has been missing since 6 p.m. local time (1500 GMT) on Sunday, an army statement quoted by Moroccan state news agency MAP said early on Monday.
A boy sits as Yemenis wait to fill jerry cans with water from a public tap amid an acute shortage of water supply to houses in the capital, Sana'a, May 9, 2015. (© AFP)
Moroccan fighter jets have conducted a number of air raids against Yemen in tandem with Saudi Arabia, which started its airstrikes on Yemen on March 26 – without a UN mandate – in a bid to undermine the Houthi Ansarullah movement and to restore power to Yemen's fugitive former President Abd Rabbuh Mansour Hadi, a staunch ally of Riyadh.
Saudi aerial attacks on the impoverished Arab nation continue to claim lives.
In the latest raids, Saudi warplanes targeted the northwestern city of Ta'izz injuring 11 people. Earlier, Saudi jets attacked targets in Sa'ada and Hajjah provinces, killing at least five people. They also pounded a district in Bayda Province, leaving two people dead.
Saudi Arabia has been blocking the delivery of relief supplies to the war-stricken people of Yemen in defiance of calls by international aid groups.
According to the latest UN figures, the Saudi military campaign has so far claimed the lives of over 1,400 people and injured close to 6,000 people, roughly half of them civilians.
Speaking from the Yemeni capital, Sana'a on Monday, Press TV's correspondent, Yousef Mawry, said the downed Saudi fighter jet was flying at a low altitude and was hit by an anti-aircraft weapon.
Mawry aadded that clashes have intensified between Ansarullah fighters and al-Qaeda-linked militants in the southern Yemeni port city of Aden.
Ansarullah forces have managed to secure Aden's international airport and the seaport of the city, which are two strategic locations in Aden, he said.