Yemen
Middle East
North America
Saudi Arabia
Yemeni armed forces shoot down another Great Satan US-made ScanEagle reconnaissance drone
Yemeni army forces, supported by allied fighters from the Popular Committees, have intercepted and targeted another US-built Boeing Insitu ScanEagle spy drone belonging to the Saudi-led military coalition as it was flying in the skies over the country's central province of Ma'rib.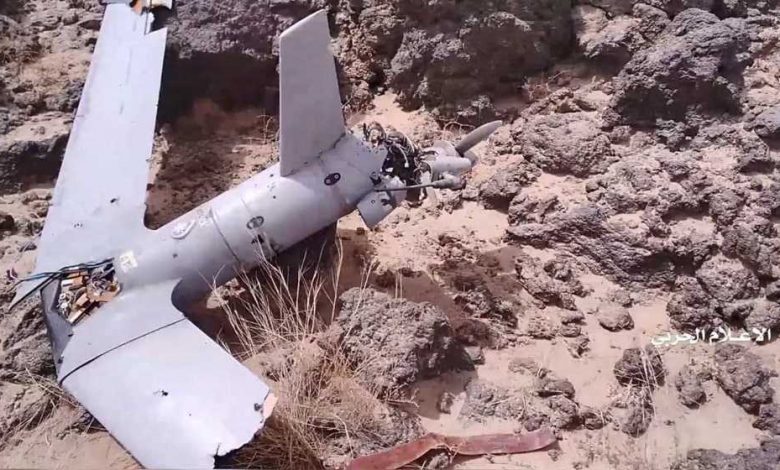 The spokesman for the Yemeni Armed Forces, Brigadier General Yahya Saree, said in a post published on his Twitter page on Monday that Yemeni air defense units shot down the unmanned aerial vehicle as it was carrying out hostile acts in the skies of Medghal district.
The Boeing Insitu ScanEagle is a small, long-endurance, low-altitude unmanned aerial vehicle (UAV) built by Insitu, a subsidiary of Boeing, and is used for reconnaissance.
The development comes only a day after Saudi-led warplanes conducted roughly three dozen airstrikes against various residential neighborhoods across Ma'rib province.
Local sources said the military aircraft launched 24 raids against Harib al-Qaramish and al-Jubah districts.
Saudi-led fighters also carried out six attacks against Sirwah district.
Back on August 14, Yemeni army forces and their allies shot down a Saudi-led ScanEagle reconnaissance drone as the aircraft was flying over the same district of Ma'rib province.
A Saudi-led ScanEagle reconnaissance drone was intercepted and struck over al-Mushajah area in Sirwah district on June 22, as the aircraft was on a surveillance mission.
Local official: Saudi-led jets struck Sirwah over 30,000 times
Separately, the director general of Sirwah district said the Saudi-led coalition of aggression has conducted more than 30,000 air raids against the area, and caused extensive damage to infrastructure as well as public and private properties there.
Sheikh Mari al-'Ameri told Arabic-language al-Masirah television network that Saudi-led warplanes have destroyed more than 500 homes, over 22 schools, four medical facilities, and more than 12 mosques.
He pointed out that 100 agricultural fields have been damaged as a result of the Saudi-led coalition's airstrikes against the Sirwah district, and more than seven water projects in addition to three archaeological sites and three refugee camps have been hit.
'Ameri stressed that all public utilities that used to supply services such as water, electricity, telephone, and other communication systems to locals in Sirwah district have been badly damaged.
He went on to say that the Saudi-led aerial assaults have resulted in the displacement of more than 12,000 families, who are now living in tragic and catastrophic conditions.
The director general of Sirwah district highlighted that the dire situation of internally displaced people require immediate intervention of state insinuations and organizations to provide them with proper assistance.
'Ameri noted that the presence of landmines, unexploded ordnance and improvised explosive devices (IEDs) gravely endanger the lives of local residents, calling for their clearance before a terrible catastrophe could strike.
Saudi Arabia, backed by the US and regional allies, launched the war on Yemen in March 2015, with the goal of bringing the government of former president Abd Rabbuh Mansur Hadi back to power and crushing popular Ansarullah movement.
The war has left hundreds of thousands of Yemenis dead, and displaced millions more. It has also destroyed Yemen's infrastructure and spread famine and infectious diseases.
Yemeni armed forces and allied Popular Committees, however, have grown steadily in strength against the Saudi invaders, and left Riyadh and its allies bogged down in the country.