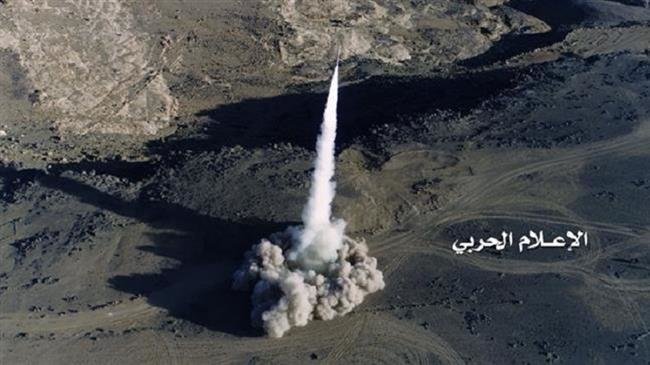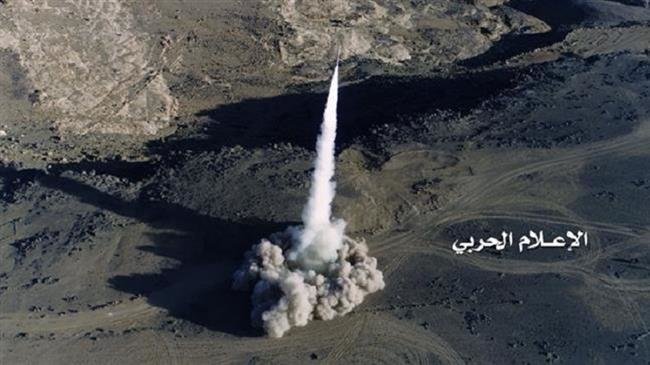 Yemeni armed forces have reportedly fired domestically-designed and -developed ballistic missiles at military targets in Saudi Arabia's southwestern border regions of Jizan and Asir, in retaliation for strikes by a Saudi-led military coalition waging war on Yemen.
Yemen's Arabic-language al-Masirah television network, citing an unnamed military official from the missile unit of the Yemeni army, reported that a gathering of Saudi-led mercenaries in the east of the mountainous area of al-Doud had been hit with two short-range Zelzal-1 (Earthquake-1) missiles in early hours of Thursday, without giving the number of potential casualties of the strikes.
It added that the Yemeni troops had earlier pounded that same area with artillery and rocket fire.
Meanwhile, Yemen's official Saba news agency, citing an unnamed military official, reported that Yemeni army forces had hit another gathering of Saudi-led mercenaries in the Majaza border area of Asir with the same type of ballistic missile on Wednesday night.
The official added that another Zelzal-1 missile had also struck a group of Saudi-led military hardware and equipment in the Midi Desert in Yemen's northwestern Hajjah Province earlier on Wednesday, inflicting damage.
Saudi Arabia and some of its allies, including the United Arab Emirates, Morocco, and Sudan, launched a brutal war against Yemen in March 2015 in an attempt to reinstall Yemen's former president Abd Rabbuh Mansur Hadi.
The aggression initially consisted of a bombing campaign but was later coupled with a naval blockade and the deployment of ground forces to Yemen. Some 15,000 Yemenis have so far been killed and thousands more injured.
The Saudi-led war has also taken a heavy toll on the country's infrastructure, destroying hospitals, schools, and factories. The United Nations (UN) has said that a record 22.2 million Yemenis are in dire need of food, including 8.4 million threatened by severe hunger.
A number of Western countries, the United States and Britain in particular, are also accused of being complicit in the ongoing aggression as they supply the Riyadh regime with advanced weapons and military equipment as well as logistical and intelligence assistance.