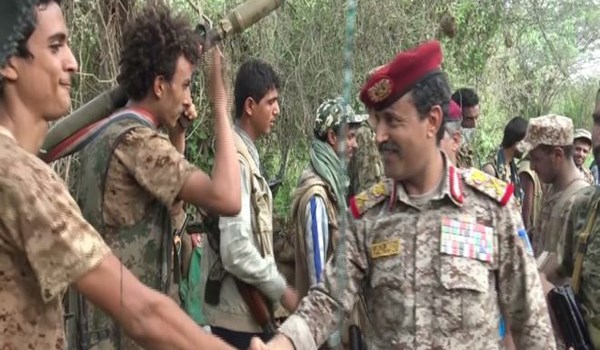 Yemeni Defense Minister Major-General Mohammad Nasser al-Atifi visited his country's armed forces in Southern Saudi Arabia's Najran region for the first time, a move believed by experts to be a humiliation of Riyadh.
While visiting the Saudi forces, Major-General al-Atifi congratulated the Yemeni Army and popular forces on their high morale to face the Saudi aggressors.
The Yemeni defense minister underlined that the Yemeni Army and popular forces are very close to the city of Najran in Southern Saudi Arabia, and said that more victories are imminent.
"The Yemeni forces are just few kilometers away from Najran city and its airport," al-Atifi said.
The Yemeni defense minister reiterated the Yemeni Army and popular forces will never abandon defending their homeland as they were very close to victory over the Saudi aggressors.
In relevant remarks on Wednesday, Yemeni Army spokesman Brigadier General Yahya Sare'e said that the armed forces had captured 20 military positions belonging to Riyadh and its mercenaries in Najran since last week.
"More than 200 Saudi mercenaries were killed or wounded during the retaliatory operation, and many others were captured along with large quantities of military equipment," he added.
Saudi regime has been striking Yemen since March 2015 to restore power to fugitive president Mansour Hadi, a close ally of Riyadh. The Saudi-led aggression has so far killed more than 20,000 Yemenis, including hundreds of women and children. Despite Riyadh's claims that it is bombing the positions of the Ansarullah fighters, Saudi bombers are flattening residential areas and civilian infrastructures.
Yemen is the world's largest humanitarian crisis with more than 22 million people in need and is seeing a spike in needs, fueled by ongoing conflict, a collapsing economy and diminished social services and livelihoods. The blockade on Yemen has smothered humanitarian deliveries of food and medicine to the import-dependent state.
The UN has repeatedly criticized the Saudi-UAE-led military coalition's bombing campaign and placed it on a blacklist of child rights violators last year.
A UN panel has also compiled a detailed report of civilian casualties caused by the Saudi military and its allies during their war against Yemen, saying the Riyadh-led coalition has used precision-guided munitions in its raids on civilian targets.