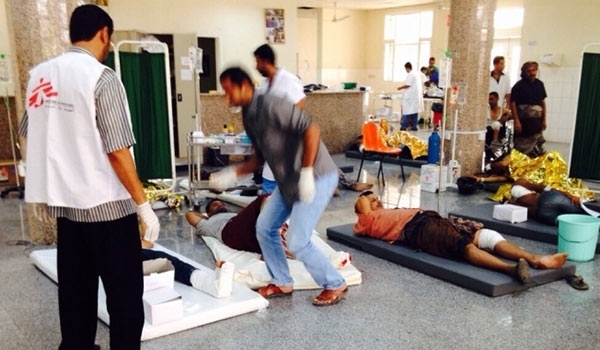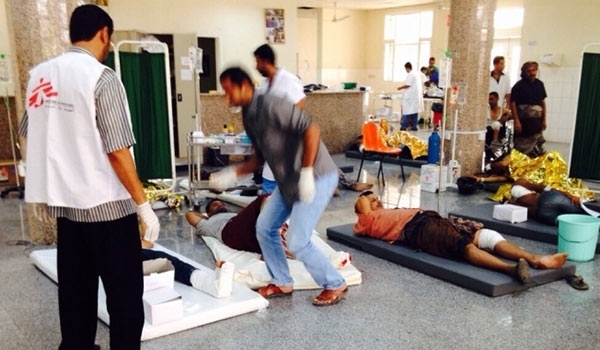 Medical sources announced on Wednesday that hospitals in Yemen are facing shutdowns because of a critical shortage of power, fuel and oxygen supplies as Saudi fighter jets continue pounding the Muslim Arab nation.
"Hospitals in Yemen are facing a critical lack of fuel and oxygen supplies," Hosni al-Jowshaee, a physician in Sana'a, said.
He further said that hospitals and medical staff are struggling to cope with the very high number of the Yemenis injured in the Saudi attacks, adding that several dozens of the patients have so far died due to the lack of medical teams, staff, beds, ambulance, oxygen containers, and other vital equipment at hospitals overwhelmed by patients.
Al-Jowshaee also said that Riyadh has exacerbated the existing humanitarian crisis in Yemen by blocking aid flights to the crisis-stricken country.
Saudi fighter jets staged seven air raids on Sana'a International Airport on Tuesday to prevent an Iranian cargo plane carrying humanitarian aid from landing in Yemen.
The plane was bound for Sana'a Airport, but was intercepted by the Saudi fighters before landing in Yemen's airport. The air strikes also set fire to an aircraft belonging to the al-Saeeda airlines.
Sources in the Yemeni capital said the Saudi warplanes targeted the airport seven times to make the Iranian plane avoid landing and return to Iran.
The source said the cargo plane was due to take humanitarian aid to Yemen and take several civilians, who were critically wounded in the recent Saudi bombings, back to Tehran to receive specialized medical treatment.
The plane's pilot Captain Behzad Sedaqat told the Iranian state-run TV on Tuesday night that "15 minutes after entering Yemen's airspace, Saudi fighter jets came to escort us insisting that we change our flight plan and go to Saudi Arabia".
"Then they once again warned us to go to Saudi Arabia and land in an airport there, but we refused," the captain added, saying that the Saudi fighter jets have even threatened to shoot the plane down and told him that the cargo plane had no other way, but to change the flight plan accordingly.
"But when we defied and approached the Sana'a International Airport, the Saudi warplanes targeted the airport with rockets and bombs, and when we found out that we couldn't land in there we decided to return," said the captain who went to the Omani capital, Muscat, to refuel the plane before returning to Iran.
Saudi jet fighters on Thursday prevented an Iranian cargo plane carrying humanitarian aid from entering Yemen's airspace. The Iranian civilian plane carried humanitarian aids, including medical equipment, for the Yemeni people who have been under the Saudi-led airstrikes for almost a month now.
For the second consecutive day, the Saudi fighter jets intercepted an Iranian airplane carrying humanitarian aid from entering Yemen's airspace. Iranian cargo plane carrying food stuff and medical equipment for the Yemeni people was shooed away from Yemen's airspace on Friday.
In response, the Iranian foreign ministry summoned the Saudi charge d'affaires in Tehran on Friday to protest against the Arab country's continued blocking of Iran's cargo planes carrying humanitarian and medical aid to Yemen.
In the absence of the Saudi ambassador to Iran, the country's chargé d'affaires was summoned to the foreign ministry after the Saudi warplanes prevented the cargo planes of the Iranian Red Crescent Society (IRCS), carrying pharmaceutical aids and also the wounded Yemenis who have been treated (in Iran), from entering Yemen's airspace despite obtaining the needed permissions from Saudi Arabia.
Deputy Foreign Minister for Arab and African Affairs Hossein Amir Abdollahian warned Riyadh of Tehran's tough reaction after Saudi fighter jets alarmed Iranian cargo planes, carrying humanitarian aid, to keep off Yemen's airspace.
"Riyadh's behavior and its siege of Yemen and preventing the dispatch of humanitarian aids will not remain unanswered," Amir Abdollahian said on Sunday.
"Saudi Arabia is not entitled to decide for others in the region," he added.
Iran has already sent five consignments of humanitarian aid to Yemen, including a total of 69 tons of relief, medical, treatment, and consumer items
Earlier this month, Head of the Yemeni Red Crescent Society Mohammad Ahmad al-Kebab in a letter to his Iranian counterpart Seyed Amir Mohsen Ziayee thanked Iran for the recent humanitarian and medical aid cargoes sent to his country.
"I appreciate the unsparing help and relief operations as well as the humanitarian attempts of the Iran Red Crescent Society (IRCS)," al-Kebab said in his letter.
He expressed the hope that interactions and mutual cooperation between the two countries' Red Crescent societies would increase in future.
But last Sunday, the IRCS blasted Saudi Arabia for blocking Iran's humanitarian aids to Yemen.
"The IRCS humanitarian aid consignments are ready to be dispatched to Yemen, but unfortunately Saudi Arabia prevents their delivery to Yemen," Shahabeddin Mohammadi Araqi, IRCS deputy managing director for international and humanitarian affairs, said.
Mohammadi Araqi described the Yemeni people's conditions as critical, and said, "We are in contact with Yemen's Red Crescent Society and Health Ministry and have included their needs in the new consignment."
He lamented that planes and ships are not allowed into Yemen's ports and airports, and said, "Unfortunately, the Saudi government has prevented the dispatch of aids to Yemen."
According to FNA tallies, the Monarchy's attacks have so far claimed the lives of at least 3,024 civilians, mostly women and children.
Meanwhile, according to a report by Yemen's Freedom House Foundation, Saudi airstrikes have killed 3,512 Yemeni people, including 492 children and 209 women, since the beginning of the aggression until April 25.
The report added that 6,189 people were injured, including 978 children and 713 women, during the same period.
About 95,000 families have been displaced due to the Saudi-led airstrikes, according to the report.
The foundation further said 4,898 residential buildings have been either destroyed or damaged and some 857 civil service and public utility facilities have been destroyed.