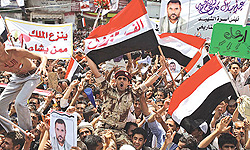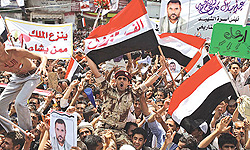 More than 100 influential Yemeni clerics and tribal leaders have signed a petition urging presidential elections, as the country's ruler reportedly plans to return.
The petition demanded the ouster of Yemen's Ali Abdullah Saleh and the holding of new elections within 60 days, according to the Associated Press.
Saleh is currently in Saudi Arabia for the treatment of burns and injuries he allegedly sustained in a rocket attack on his palace on June 3.
On Friday, a ruling party official said Saleh intended to return to Yemen within days.
Yemeni clerics and tribal leaders, however, have expressed strong opposition against the return of the US- and Saudi-backed dictator. They say Saleh, who has maintained his grip on power in the country over the past 33 years, is unfit to rule anymore.
Hundreds of thousands of people have turned out for regular demonstrations in Yemen's major cities since late January, calling for an end to corruption and unemployment and demanding the ouster of Saleh.
On Friday, tens of thousands of Yemenis hit the streets in the northern city of Sa'ada, chanting "No to any American domination," and "No to any foreign domination."
They repeated their demand for the establishment of a transitional council as well as the dissolution of the parliament and country's consultative council.
Yemenis have also been demanding the formation of a committee to draw up a new constitution and set dates for holding a referendum on the constitution and on elections.
Protests against what demonstrators have described as unfair mediation by Saudi Arabia and the US continued on Saturday in the second largest city of Taizz, while a similar protest was held in the capital Sana'a