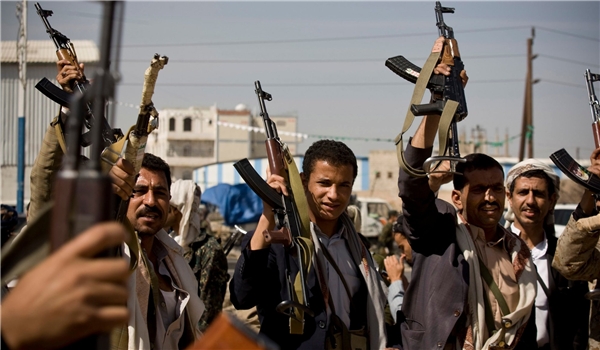 The Yemeni Army and Ansarulah Popular Forces managed to repel an offensive of the Saudi-led coalition in a battlefield near Najran, and stopped another assault near Aseer.
Yemeni forces managed to push back two offensive operations of the Saudi-led forces in Saudi Arabia's Southern Najran region and Southwestern Aseer province.
In a 12-hour exchange of fire, Apache choppers supported the forces of the Saudi-led coalition with opening fire on Yemeni forces.
Meanwhile, the Arabic-language Elam al-Harbi news website released photos and videos showing Yemeni forces' dominance over the axis in Najran and the casualties suffered by the Saudi forces.
Saudi Arabia and a number of its regional allies launched a devastating campaign against Yemen in March 2015, with the aim of bringing the government of former Yemeni President Abd Rabbuh Mansur Hadi back to power and crushing the Ansarullah movement.
Despite Riyadh's claims that it is bombing the positions of the Ansarullah fighters, Saudi bombers are flattening residential areas and civilian infrastructures. Weddings, funerals, schools and hospitals, as well as water and electricity plants, have been targeted, killing and wounding hundreds of thousands.
According to a December 2018 report by the Armed Conflict Location and Event Data Project (ACLED), a nonprofit conflict-research organization, the Saudi-led war has claimed the lives of over 60,000 Yemenis since January 2016.
Save the Children, a charity, has reported that more than 84,700 children under the age of five may have starved to death in Yemen since the Saudi regime and a coalition of its allies launched the brutal war on the already-impoverished nation.
France, the United States, the United Kingdom and some other Western countries have faced criticisms over arms sales to the Saudi Arabia and the UAE, whose aggression against Yemen has affected 28 million people and caused what the United Nations calls "one of the worst humanitarian crises in the world". According to the world body, Yemen is suffering from the most severe famine in more than 100 years.
A UN panel has compiled a detailed report of civilian casualties caused by the Saudi military and its allies during their war against Yemen, saying the Riyadh-led coalition has used precision-guided munitions in its raids on civilian targets.