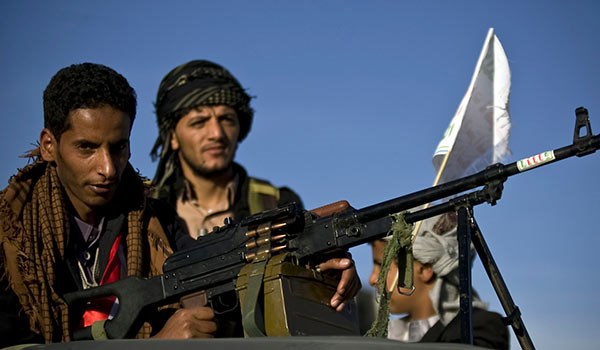 Snipers of Yemeni popular forces managed to hunt down a couple of Saudi forces during a mission near Yemen's shared border with Saudi Arabia on Sunday.
The mission was carried out in Saudi Southwestern border regions of Jizan and Asir in response to Riyadh's aerial bombardment campaign against their country, Alwaght reported.
During their offensive, Yemeni army along with the popular forces attacked Saudi troopers in the al-Farizeh military base of the region, located 969 kilometers South of the capital, Riyadh.
Army troops and Popular Committees fighters also launched an attack on the al-Alab border crossing of Asir region, killing a Saudi trooper there.
Separately, several pro-Saudi militiamen loyal to resigned Yemeni president Abd Rabbuh Mansur Hadi were injured when Yemeni forces fired a barrage of artillery rounds at their gatherings in the Usaylan district of the Central Yemeni province of Shabwah.
Earlier, Yemeni soldiers and their allies fired artillery shells at a gathering of Saudi mercenaries in the Kahboub area of Southwestern Lahij Province, though no words on possible casualties and the extent of damage were reported.
Local sources say the Saudi war, which was launched in March 2015 in an attempt to bring back the country's former government to power, has so far claimed the lives of at least 13,100 Yemenis.
The Saudi military aggression has also taken a heavy toll on Yemen's facilities and infrastructure, destroying many hospitals, schools, and factories.