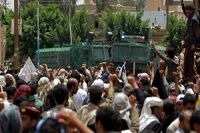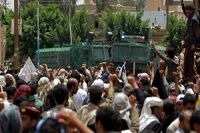 Protesters at a dozens-strong rally in Yemen's capital, Sana'a, have called for the release of "revolutionaries" incarcerated under the country's former regime.
According to Press TV, the Saturday protest took place in the capital's al-Taghyeer Square, with protesters demanding the release of five inmates held in Yemen's central prison, and 19 others kept in another prison in the northwestern Hajjah Governorate.
Abdul-Karim Thoali, head of the Council of Revolution Detainees NGO, which organized the rally said, "This protest comes nearly four years after the arrest of young revolutionaries who ousted former Yemeni president, Ali Abdullah Saleh, in 2011."
Those held in Yemen's central prison are accused of blowing up a mosque inside the presidential palace, which seriously injured Saleh and several officers.
The rest of the prisoners are charged with killing an officer and three soldiers. The trials for both cases have already begun, but verdicts are yet to be issued.